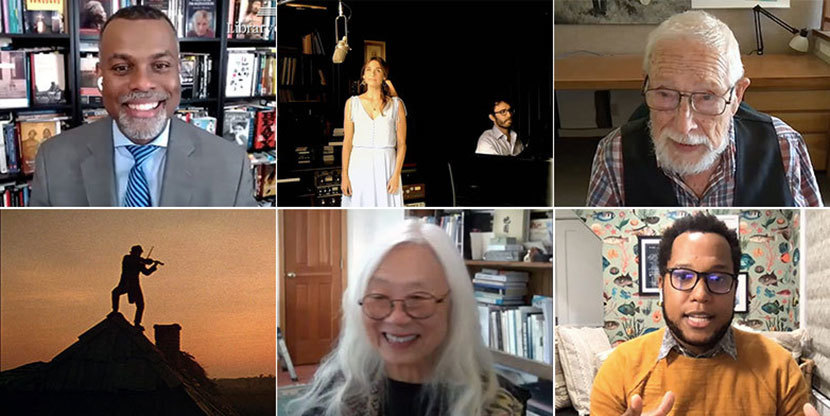 Join us for online presentations featuring acclaimed literary critics, historians, and other scholars.
• Watch past programs
• Sign up for invitations to future online events and monthly LOA news
• Browse a list of our top ten LOA LIVE programs of all time
LOA LIVE programs are made possible by contributions from friends like you, and we encourage you to consider making a donation to support future presentations. Visit loa.org/loalive to donate.
Please note: A complete listing of LOA's Lift Every Voice events centered on African American poetry can be found at africanamericanpoetry.org.
---
Check back soon for details on upcoming programs.
---
I'm Dreaming of a Noir Christmas: Classic Crime Thrillers of the 1960s
December 5, 2023
Black Writers in Paris, the FBI, and a Lost 1960s Classic: Rediscovering The Man Who Cried I Am
November 8, 2023
The Startling Theater of Adrienne Kennedy
October 25, 2023
The Mysterious Greatness of Gatsby
September 21, 2023
A Celebration of Ray Bradbury
July 19, 2023
Rediscovering the Pathbreaking Fiction of Nancy Hale with Kate Bolick
June 21, 2023
'The Best American Writer You've Never Heard Of': A Tribute to Charles Portis
May 17, 2023
Small Miracles: The Stories of Bernard Malamud
April 20, 2023
Back to the Future Is Female!
March 15, 2023
Frederick Douglass: Prophet of Freedom
February 15, 2023
Ordinary Heroes: Bruce Catton's Civil War Masterpiece
January 18, 2023
---
2022
The Unknown Kerouac
November 14, 2022
Lying and Politics: The Relevance of Hannah Arendt
October 20, 2022
A Celebration of Oscar Hijuelos
September 15, 2022
A Tribute to Gary Snyder
July 20, 2022
Fiddler on the Roof on Stage and Screen
June 29, 2022
The Heart of American Poetry, with Edward Hirsch
June 1, 2022
Maxine Hong Kingston and Viet Thanh Nguyen
May 18, 2022
Our Town for Our Time
May 3, 2022
World War II Memoirs: The Pacific Theater
March 16, 2022
Filming Octavia E. Butler's Kindred, with Branden Jacobs-Jenkins
February 24, 2022
Vonnegut at 100, with Robert Weide
January 25, 2022
---
2021
American Christmas Stories
December 15, 2021
Rediscovering Rachel Carson
November 22, 2021
Burning Boy: Paul Auster on the Extraordinary Life and Work of Stephen Crane
October 28, 2021
Virginia Hamilton and the Transformation of American Children's Literature
October 6, 2021
The Light in the Piazza: From Page to Stage
July 14, 2021
On Extended Wings: American Birds and American Writing
June 17, 2021
Joan Didion: The Art of Storytelling
May 19, 2021
E. O. Wilson: An Earth Day Tribute
April 22, 2021
Richard Wright's The Man Who Lived Underground
April 15, 2021
The Great American Western on Page and Screen
March 30, 2021
Women's Liberation! Feminist Writings That Inspired a Revolution and Still Can
March 18, 2021
Reading James Baldwin Now: Gabrielle Bellot on If Beale Street Could Talk
March 3, 2021
Poet of the People: The Greatness of Langston Hughes
February 18, 2021
American Democracy: The Task Before Us
January 27, 2021
---
2020
Peanuts at 70
December 16, 2020
The Genius of Hemingway: Robert W. Trogdon, Lynn Novick, and Sarah Botstein
December 2, 2020
The Nineteenth Amendment Turns 100: A New Look at Women's Suffrage
November 19, 2020 (video not available)
Shirley Jackson: A Rather Haunted Life
October 29, 2020
The Paranoid Style in American Politics: Hofstadter in the Time of Trump
October 13, 2020
Reading James Baldwin Now: Eddie Glaude Jr., on "The White Man's Guilt"
September 23, 2020
Abraham Lincoln and the Crisis of Presidential Succession, with Ted Widmer
September 10, 2020
It's a New World, Golde: Classic American Musicals in the 21st Century
August 26, 2020
The Fate of the Earth: Jonathan Schell and His Legacy
August 6, 2020
Who Tells Your Story: Joanne B. Freeman on Hamilton and History
July 28, 2020
Reading James Baldwin Now: Darryl Pinckney on No Name in the Street
July 16, 2020
Reading James Baldwin Now: Farah Jasmine Griffin on "Sonny's Blues"
June 25, 2020
Harold Bloom and the American Canon, with David Mikics
June 16, 2020
Andrew J. Bacevich and Sean Wilentz: What Is American Conservatism?
June 4, 2020