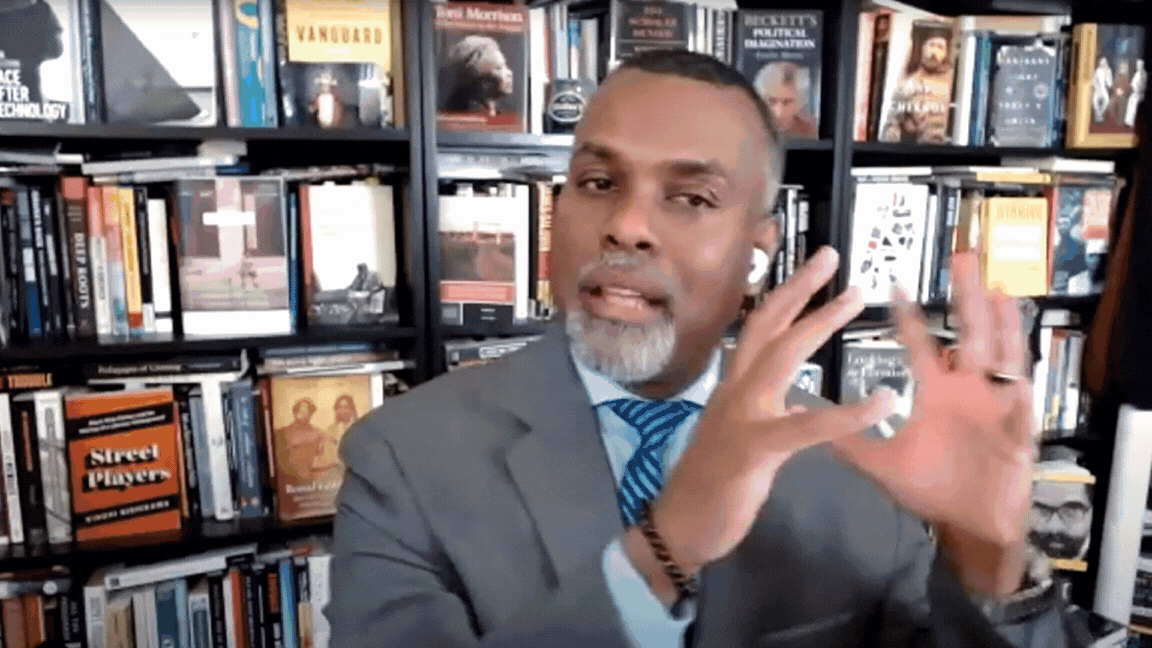 Since its debut in 2020, LOA LIVE has welcomed thousands of viewers from every state and 73 countries and territories to hear from leading writers, critics, and scholars on some of the greatest works and authors in American letters.
Spanning stirring readings and in-depth discussions of James Baldwin's fiction, a star-studded tribute to living poetic genius Gary Snyder, and incisive explorations of U.S. history and politics, the more than 40 programs in the series testify to the vitality and diversity of the nation's literature, and the ever-expanding vision of it celebrated by LOA.
As LOA LIVE takes a pause in August, we invite you to explore our top ten most popular programs. You can check out full videos on YouTube or listen on Spotify. We'll be back in September with an exciting new lineup of speakers and topics.
---
1. Reading James Baldwin Now
with Farah Jasmine Griffin, Darryl Pinckney, Eddie Glaude, Jr., and Gabrielle Bellot
The power of Baldwin's explorations of race and America's unfulfilled promise has never been more illuminating or more necessary. In these four engrossing talks, a host of leading scholars reflect on his towering literary achievement.
2. Joan Didion: The Art of Storytelling
with David L. Ulin, Laila Lalami, and Steph Cha; special appearances by Griffin Dunne and Mia Barron
An iconic voice in contemporary American writing, Didion through her novels and literary nonfiction reimagined the way stories are told. In this conversation, our panel takes a deep dive into her vital relevance and crucial legacy.
3. Harold Bloom & the American Canon
with David Mikics
In this intimate talk, scholar David Mikics discusses how he wove several decades of Bloom's writing—much of it hard to find and long unavailable—into a compelling portrait of American literary genius.
4. Who Tells Your Story: Joanne B. Freeman on Hamilton and History
Following up on the stratospheric success of Lin-Manuel Miranda's Hamilton, professor and LOA Hamilton editor Joanne B. Freeman interrogates what the musical tells us about how history is made and remade.
5. A Tribute to Gary Snyder
with Gov. Jerry Brown, Peter Coyote, Kim Stanley Robinson, Wang Ping, Robert Hass, and others
This all-star tribute to the Pulitzer Prize-winning "poet laureate of deep ecology" brings together poetry readings and personal anecdotes from friends and fans. A special appearance by Snyder concludes the program.
6. The Genius of Hemingway
with Robert W. Trogdon, Lynn Novick, and Sarah Botstein
Ahead of the release of Ken Burns and Lynn Novick's 2021 PBS documentary on the legendary author, this program offers a preview of the film and an investigation of Hemingway's brilliance, complexity, and controversial legacy.
7. Shirley Jackson: A Rather Haunted Life
with Ruth Franklin, Francine Prose, and John Guare
A panel of acclaimed guests shares how Jackson took the American gothic tradition of Poe, Hawthorne, and Lovecraft and brought it down to earth in novels and stories that plumbed the dark underside of the conformist postwar decades.
8. The Paranoid Style in American Politics: Richard Hofstadter in the Time of Trump
with Sean Wilentz, Eric Foner, Arlie Hochschild, and Ira Katznelson
As we seek to navigate a polarized and unstable political climate, discover Hofstadter's ever-relevant take on the strains of irrationality and conspiratorial thinking in American culture and their threat to our democratic politics.
9. Richard Wright's The Man Who Lived Underground
with Julia Wright, Malcolm Wright, and Kiese Laymon; readings by André Holland
To mark the release of Wright's previously unpublished novel about race and police violence, hear from writers, scholars, and family members on the story behind the book that entered the New York Times Best Sellers list 80 years after it was written.
10. Burning Boy: the Extraordinary Life and Work of Stephen Crane
with Paul Auster
In his remarkable ten-year career, Crane ushered American literature into the twentieth century. Novelist Paul Auster, author of the riveting new Crane biography Burning Boy, expounds on the singular life story of the writer of The Red Badge of Courage.
---
LOA Live programs are presented free of charge to help readers across the nation and around the globe make meaningful connections with America's best writing. Programs are made possible by contributions from friends like you, and we hope you'll consider making a donation to support future presentations.
---
Slideshow image: Eddie S. Glaude, Jr., Gary Snyder, Steph Cha, Paul Auster, Kiese Laymon, and Francine Prose.