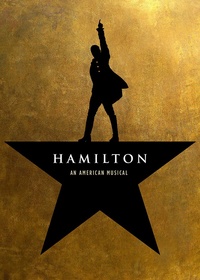 Opening in previews tonight on Broadway, Lin-Manuel Miranda's musical Hamilton has been the proverbial "hottest ticket in town" since its initial run at New York City's Public Theater earlier this year. Featuring a young multiethnic cast as the Founding Fathers and a score that mixes hip-hop, R&B, and power ballads to recount the early years of the republic, the show has accomplished the unlikely feat of making Alexander Hamilton—first United States Treasury Secretary and the man most Americans know solely as the face on the ten-dollar bill—a part of 2015's pop-culture conversation.
This past Friday, Library of America Trustee Joanne Freeman was interviewed on New York Public Radio's Money Talking about the musical, which she gave an enthusiastic endorsement. A professor of history and American studies at Yale University, Freeman edited the Library of America volume Alexander Hamilton: Writings and her 2002 book Affairs of Honor: National Politics in the New Republic devotes a whole chapter to Hamilton's fatal 1804 duel with Aaron Burr. (Miranda has signaled his appreciation for Freeman's work on social media.)
A noteworthy selling point for Hamilton is that other experts on early American history—like Hamilton biographer Richard Brookhiser, for instance—are avowed fans as well. Toward the end of her radio interview, Freeman makes the musical's appeal to the scholarly community clear:
I've seen it now several times, but each time with a different historian. And what's wonderful about that is, I think we all have the same response. Wait a minute—they're singing about the Whiskey Rebellion? They're singing about the [national] bank? They're singing about this stuff? And I think all of us felt like that play makes historians feel like the cool kids. Historians never feel like the cool kids.
Listen to the entire Money Talking segment via the embedded audio player below.