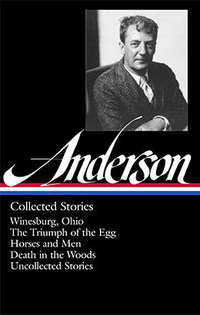 Sherwood Anderson remade the short story for the modern era. Exploring the hidden recesses of small town life, his haunting, understated, often sexually frank stories revolutionized the tone of American storytelling. Without Anderson's example, the work of Hemingway, Faulkner, Wolfe, Steinbeck, McCullers, Mailer, and Kerouac is almost unthinkable.
The Library of America edition of Sherwood Anderson: Collected Stories gathers—for the first time in a single volume—all the story collections Anderson published during his lifetime: Winesburg, Ohio (1919), The Triumph of the Egg (1921), Horses and Men (1923), and Death in the Woods (1933), along with a generous selection of stories left uncollected or unpublished at his death. (Sherwood Anderson: Collected Stories is also available as an e-book in all major formats.)
To celebrate this milestone edition of an essential American writer, The Library of America presents some of today's leading short story writers reading their favorite Anderson stories from the collection.
Rick Moody reads "The Egg"
From The Triumph of the Egg (1921)

Patricia Hampl reads "Mother"
From Winesburg, Ohio (1919)

Antonya Nelson reads "Loneliness"
From Winesburg, Ohio (1919)

Deborah Eisenberg reads "Adventure"
From Winesburg, Ohio (1919)

Siri Hustvedt reads "Paper Pills"
From Winesburg, Ohio (1919)

Benjamin Taylor reads "I'm a Fool"
From Horses and Men (1923)

Robert Boswell reads "Death in the Woods"
From Death in the Woods (1933)

Charles Baxter reads "The Corn Planting"
Uncollected story (1934)

Ben Marcus reads "Certain Things Last"
Probably written during the early 1920s; not published in Anderson's lifetime

Charles Baxter reads "Sister"
Uncollected story (1915)