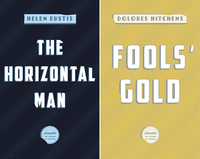 What's old is new again this fall, when The Library of America simultaneously releases two rediscovered mystery-suspense novels—The Horizontal Man (1946) by Helen Eustis and Fools' Gold (1958) by Dolores Hitchens—in both audiobook and e-book editions. The two works mark The Library of America's first foray into the audiobook medium.
The Horizontal Man and Fools' Gold are part of the new LOA two-volume collection Women Crime Writers: Eight Suspense Novels of the 1940s & 50s, which restores to print eight unjustly overlooked or neglected noir novels of the mid-twentieth century. Surveying the Women Crime Writers set last month in the Wall Street Journal, Terry Teachout singled out these two books for particular praise: "Each of them is smartly plotted, tautly written, sharply characterized and not at all dated."
The Library of America has drawn on established talent for its inaugural audiobook productions. The reader for The Horizontal Man is veteran actress Barbara Rosenblat (Orange Is the New Black), an acclaimed reader with hundreds of titles to her credit, while Fools' Gold is read by Scott Brick, another experienced narrator whose résumé includes literary classics like In Cold Blood and Light in August. Patti Pirooz, the former publisher of audiobooks at Penguin, produced both The Horizontal Man and Fools' Gold.
As a special bonus feature, both audiobooks include commentary by Sarah Weinman, editor of Women Crime Writers and an authority on mystery-suspense fiction.
Listen to an excerpt from The Horizontal Man:

Buy from Audible • Buy from iBooks
Listen to a Fools' Gold excerpt:

Buy from Audible • Buy from iBooks
Meanwhile, e-book editions of The Horizontal Man and Fools' Gold arrive in response to ongoing demand for Library of America books in electronic form. Click on the relevant links below for specific e-book platforms.
The Horizontal Man
Kindle • Kobo • Google Books • iBooks • Nook
Fools' Gold
Kindle • Kobo • Google Books • iBooks • Nook
Watch this space for information on new Library of America audiobooks and e-books in the months ahead.
Visit the Women Crime Writers companion website for complete information on The Horizontal Man and Fools' Gold and their authors, along with appreciations by contemporary writers and related contextual material.