Tom Nolan, the editor of Library of America's Ross Macdonald edition, has been offering News & Views readers a series of critical examinations of the titles collected in the just-published Four Later Novels, a quartet of Lew Archer mysteries from the tail end of the 1960s and early '70s. The series concludes below with a look at the best seller that won Macdonald public acclaim from Eudora Welty even as he and his wife Margaret Millar were coping with a catastrophic loss.
All three of LOA's Macdonald volumes, comprising eleven Lew Archer novels, are now also available in a deluxe boxed set, The Ross Macdonald Collection.
---
By Tom Nolan
When Ross Macdonald's novel The Goodbye Look reached the best seller list in early 1969, the author confessed to Knopf editor Ash Green in October of that year that "I didn't believe it would last two weeks [there]"—let alone three and a half months. "[D]on't you think," the author asked, "the breakthrough was not so much that of Goodbye Look (hardly my best book) but of the series?"
It was simply Macdonald's "time," he implied—or Lew Archer's. But once that time had come, the suddenly much-better-known author felt obliged and determined to produce a worthy successor to his "surprise" best-seller.
He would write a book of the sort he valued most in his oeuvre: something new, a novel with which he would turn a corner into fresh territory. Drawing on his experience of Santa Barbara's ten-day Coyote forest fire of 1964, which had come close to burning the Millars' own home, he would compose a fire-driven story that was nearly as much a natural-world action-thriller as it was a detective novel.
A hot wind awakens Lew Archer in his Los Angeles apartment on the first page of The Underground Man (1971), presaging the conflagration ninety miles to the north which will race through this often breathtaking chronicle of unrestrained weather and people: "The edges of the sky had a yellowish tinge like cheap paper darkening in the sunlight."
Sentence by sentence, paragraph by paragraph, the narrative spurs interest, sympathy, and a mood of growing danger.
A youngster, Ronny, joins Archer in the courtyard of his building, to help him feed the morning's jaybirds. "The boy looked about five or six. He had dark close-cropped hair and anxious blue eyes. . . . The jays were all around him like chunks of broken sky." The gentle, vulnerable lad was a miniature portrait of Macdonald's own grandson Jimmie, towards whom Millar had grown protective. Into Jimmie his grandfather invested his hopes and anxieties for the human future.
Archer becomes fearful for Ronny, whose estranged parents quarrel in front of him. Lew protects the boy from the father's raised hand. "I want to stay here," Ronny says. "I want to stay with the man"—with Archer. But the angry father drives away with the son. "I wanted to stop him and bring the boy back," Archer admits. "But I didn't."
The lingering image of the vulnerable youngster stays with Lew as he returns to his apartment; it blends with his own reflection as he gazes at himself in the mirror, "as if I could somehow read his future there. But all I could read was my own past . . . A hot wind was blowing in my face."
Archer swiftly responds to Ronny's mother's plea to retrieve her son from his unstable-seeming dad, who's driving in the direction of that growing forest fire. "The tang of fear I felt for the boy had become a nagging ache."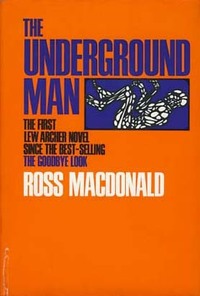 Thus was launched the novel which would prove one of Macdonald's best: a work which combined thrills and lyricism, psychology and symbolism, in ways Macdonald had been perfecting for years. As the chairman of UCLA's meteorology department wrote Macdonald regarding Underground, "It is fascinating to see the interplay of Santa Ana [wind] and sea breeze. The growing intensity of the fire . . . tends to accelerate the sea breeze; so the fire, like your other characters, is working towards its own destruction."
On July 2, 1970, the author told agent Dorothy Olding of his new manuscript: "For me the book has the merit of not being an imitation of the last book . . . Underground Man has more movement, and the movement is in the present, for the most part, though of course everything started long ago when everybody was younger. . . . It has, I think a strong single narrative device and is as much a suspense novel as a detective novel."
After getting a positive response from Knopf editor Ash Green, Macdonald wrote him on July 19: "I'm so glad you are pleased with The Underground Man. There is always moral pain involved in following a great success, and I never worked so hard on a book in my life. The main thing is that it's different from the other, from all the others indeed, and not a self-imitation. Looking over it in some coolness, I think it may get me some new readers. The nature of the action, fire and flight, brings the energy up to the surface and should make it more readily available to the ordinary reader. Not that I expect a further breakthrough in sales."
To publisher Alfred Knopf, the novelist allowed: "I'm pleased with the book because it's a new and rather fresh story for me, and in no sense a self-imitation either in style or structure. I had to work the whole thing out according to its own lights, so to speak." A few weeks later, he told Knopf: "The few readers reactions I have had have been surprisingly good: two of my regular readers think it may be the best yet. I don't claim that, but am no longer so anxious about it as I was when I was writing it."
Things seemed to be going so well for Macdonald that he became apprehensive. "So much luck as I've had makes one superstitious," the author confided to his agent. Like the characters in his books, he was often half-expecting something bad to happen.
That occurred in November, 1970, just as he was due to send corrected proofs of The Underground Man to New York. The Millars' daughter and only child Linda died in her sleep at age thirty-one, victim of "a cerebral incident."
Ken and Maggie's seven-year-old grandson Jimmie was even more precious to his grandparents now; he and his dad spent a lot of weekends with the Millars in Santa Barbara in the months to come.
The new book's publication in early 1971 provoked unexpected excitement: The Underground Man received a keenly appreciative review by esteemed woman of letters Eudora Welty on the front page of the New York Times Book Review of February 14. Macdonald's novel, she judged, "comes to stunning achievement . . . It is not only exhilaratingly well done; it is also very moving."
This lengthy celebration by a revered Mississippi author of a Southern California detective-novelist caused something of a sensation in New York publishing circles. The result on Underground's sales was immediate: the novel (Millar/Macdonald's twenty-second) was a runaway bestseller. If William Goldman's review of The Goodbye Look had provoked a sales earthquake for Macdonald, Welty's of The Underground Man caused a tsunami.
"Your good luck and your bad luck balance out," a character in Macdonald's 1960 book The Ferguson Affair claims, "the whole thing works like clockwork."
The man born Kenneth Millar and reborn as author Ross Macdonald would have more good and bad luck in the dozen years left to him: two more best-selling novels before his death (in 1983) from a debilitating brain disease.
"As I hope my books make clear," Macdonald wrote Dorothy Olding in 1968, "there's no retreat from the 'California experience' . . . It's like a furnace which uses you up, leaving nothing at the end but a spoonful of fine ash and the record of enormous fantasies." The fictional fantasies Ross Macdonald left are enchanting readers unborn the year that he died.