Our series of critical appreciations of the books collected in Ross Macdonald: Four Later Novels by the volume's editor, Tom Nolan, continues today with a look at the 1969 Lew Archer mystery that became Macdonald's critical and commercial breakthrough—a full twenty years after he introduced Archer in The Moving Target (1949).
---
By Tom Nolan
Ross Macdonald's reputation as not only the best detective novelist any reviewer could think of but also as a significant mainstream fiction-writer was growing each year. That sort of literary recognition for Macdonald was what the author (and his esteemed publisher, Alfred A. Knopf) had wanted from the start. Macdonald was now receiving praise as an important American novelist from such influential newspaper critics as the San Francisco Chronicle's William Hogan and the National Observer's Clifford A. Ridley, and from university-quarterlies including the Hudson Review.
Alfred Knopf thought the time was ripe to give Macdonald's career a boost through bigger ads, more publicity, an attention-getting book-jacket. He'd suggested making such a move with The Instant Enemy, but Macdonald didn't think that quite the work to place their bets on. Its successor, though, The Goodbye Look (1969), was something else again: a more tightly-constructed, compact, and satisfying novel, with a seamless balance of lyricism and intrigue— and one with a somewhat more upbeat ending. Evident as always was the care the author took in delineating every single character, from principals to minor players. He had empathy, if not always sympathy, for his books' casts. As columnist Edward N. Mints would put it: "Macdonald writes about characters who act like people, rather than the reverse."
The novelist worked on this book throughout 1968, considering several titles for it—"The Hanging Man," "The Burglar," "The Girl Next Door," "The Convertible Man," "The Hungry Man," "The Black Bandage," "The Suicide Room," "The Stolen War"—before fixing on "The Goodbye Look." In September, as his manuscript was being typed, he wrote of it with enthusiasm to his New York agent Dorothy Olding: "I think it's the best of my books in ways that are important to an author: idiosyncrasy, concentration, absolute impressing of the individual imagination on the form, in a word originality. It doesn't rattle along like even Enemy but moves (I think) interiorly, like muscles."
To Knopf editor Ash Green, Macdonald wrote: "I'm keen on this book, and venture to think it's my largest yet—certainly the one least likely to have been written by anyone else. If your firm agrees, this would be the book on which to make a somewhat more ambitious presentation, I believe, such as Alfred suggested for the last, Instant Enemy. The new one seems to me to have more of the qualities of a novel."
But Ping Ferry, a Santa Barbara friend and faithful Macdonald manuscript-reader (and the dedicatee of The Instant Enemy), in a handwritten midnight missive scrawled after the author had sent his text to New York, begged to suggest Macdonald consider revising the book's ending, which had a major character committing suicide by hanging. As written, Ferry thought, the act was telegraphed too soon; and the story did not conclude with a satisfying enough snap.
Macdonald thought Ferry's point well-taken. He redid the ending with more effective pacing—and he dropped the hanging for a suicide method with more punch.
In researching Goodbye, the author had consulted his and his wife's wartime correspondence from the 1940s, a period pertinent to this new book's contents. Perhaps he came across this July 1945 letter from Margaret, after she'd had dinner at a Montecito resident's home:
Went to K_______ H_______'s … Mrs. L_____ C________ (c. [age] 45) on her first outing since her husband slit his throat 3 mos. ago . . . Oh, the boredom, the lack of any sense of values among the very-rich, and the intense and awful stupidity. . . .
As rewritten, The Goodbye Look's suicidal victim is not discovered until the book's next-to-last page—and then: "An old straight razor lay open beside his dangling hand."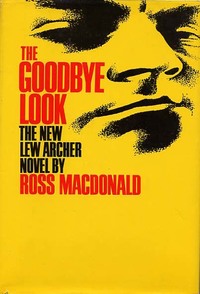 On October 5, 1968, Macdonald mailed a corrected manuscript of "probably my most unusual story" to his co-agent Ivan von Auw, explaining he'd redone the ending "in a somewhat more concentrated and dramatic form. . . ." A week later, he said of the finished Goodbye, in a letter to literary scholar Matthew Bruccoli: "I think it's my most individual book." Having returned corrected galleys to Ash Green in February, 1969, the author declared: "I am pleased with the book, if not gaudy then rather deep and strong." In 1970, he referred to Goodbye in a letter to Olding as "just about the ultimate in tight, closed jigsaw work."
Other professionals would agree. On the occasion of Library of America's publication of a two-volume Raymond Chandler collection in 1995, Joyce Carol Oates wrote in the New York Review of Books: "[Chandler] was not a gifted craftsman, yoking characters together by sheer force of coincidence, not by way of the organic, carefully imagined plot-webs of his younger and in some ways more gifted contemporary Ross Macdonald (see The Chill, The Goodbye Look, The Moving Target)."
Yet despite the pride he took in Goodbye's craft, Macdonald did not consider the book one of his major works, one in which he'd broken new ground or attained a higher level of achievement as with The Galton Case, say, or The Chill. "The Goodbye Look," he would tell Paul Nelson in 1976, "I didn't set any particular store by when it was written. But it's had a good response from people."
Indeed, it became a great success. Several young Macdonald readers (including critic and editor John Leonard) who'd gotten hooked on the Archer paperbacks in adolescence were now working in editorial jobs at influential New York publications; they collaborated to bring the author and his newest novel to the attention of a larger, non-genre audience. The most impressive result was a glowing review (by novelist and _Harper screenwriter William Goldman) of The Goodbye Look on the front page of the New York Times Book Review: an almost unprecedented achievement for a mystery.
Goldman, also a long-time Macdonald appreciator, judged the Archer books "the finest series of detective novels ever written by an American." The Goodbye Look leaped onto the New York Times's best seller list at number ten, and it stayed in that top ten for a solid fourteen weeks. Here was the breakthrough Macdonald (and Knopf) had dreamed of for twenty years.
"I think anyone would be pleased with that kind of success," said Herb Harker, a Santa Barbara friend and writing student of Macdonald's since the 1950s, "and he certainly never made a big thing out of it! Or indicated to me in any way any undue satisfaction from it. I think I just felt a little more contented feeling [coming] from him: that that was fine; if he could accomplish that, in the genre that he'd chosen, he'd be happy and contented to stay with it."