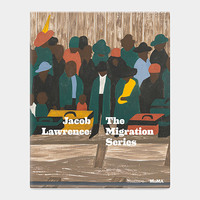 Now on view at the Museum of Modern Art in New York City, the exhibition One Way Ticket: Jacob Lawrence's Migration Series and Other Visions of the Great Movement North is a rare opportunity to see a landmark of twentieth-century American art in its entire, original form. Conceived in 1939 and completed two years later, Lawrence's Migration Series consists of sixty numbered tempera paintings, each measuring 18 × 12 inches, in which the young Harlem-based artist documented the huge population shift that brought hundreds of thousands of his fellow African Americans from the rural American South to the urban, industrialized North over the preceding quarter-century.
Because the sixty paintings have been divided between MoMA and the Phillips Collection in Washington for decades, any exhibition that presents them all in sequence is self-recommending. (MoMA's website also reproduces all sixty panels, with extensive commentary.) But the new show boasts an additional feature that should particularly appeal to Library of America readers—a well-organized side room devoted to literature of the Harlem Renaissance. Aficionados of book design will especially appreciate the display case featuring original hardcover editions, including seven titles reprinted in The Library of America series: Native Son, Black Boy, and Uncle Tom's Children by Richard Wright; Autobiography of an Ex-Colored Man by James Weldon Johnson; Cane by Jean Toomer; Home to Harlem by Claude McKay; and Quicksand by Nella Larsen.
The latter three works are included in the two-volume Library of America collection Harlem Renaissance Novels, which incorporates in its jacket and slipcase design several striking illustrations by Aaron Douglas, a major influence on Lawrence as a young artist. The MoMA exhibit showcases two of those illustrations in their original context—on the dust jackets for Johnson's Autobiography of an Ex-Colored Man (third edition, Knopf, 1927) and McKay's Home to Harlem (Harper & Brothers, 1928).
Above: Three books with jackets designed by Aaron Douglas. Elements from the illustration for Autobiography of an Ex-Colored Man and Home to Harlem were incorporated in the jacket and slipcase design (below) for the

LOA

boxed set Harlem Renaissance Novels.
Taken together, the books on display at MoMA form a literary analogue to the epic story Lawrence chronicled in his Migration Series. A quotation from Wright's Black Boy (1945) in the accompanying wall text underscores the finality of that "one way" in the exhibition title. Describing his departure from Mississippi on a Chicago-bound train, Wright recalls:
I was leaving without a qualm, without a single backward glance. . . . My mood was: I've got to get away; I can't stay here.
MoMA's exhibition website offers additional information about Douglas, "the leading Harlem Renaissance artist" who also collaborated with the poet Countee Cullen on the groundbreaking 1927 anthology Caroling Dusk: An Anthology of Verse by Negro Poets.
One Way Ticket: Jacob Lawrence's Migration Series and Other Visions of the Great Movement North is on view at the Museum of Modern Art in New York City through September 7, 2015. Visit moma.org for complete exhibition information.