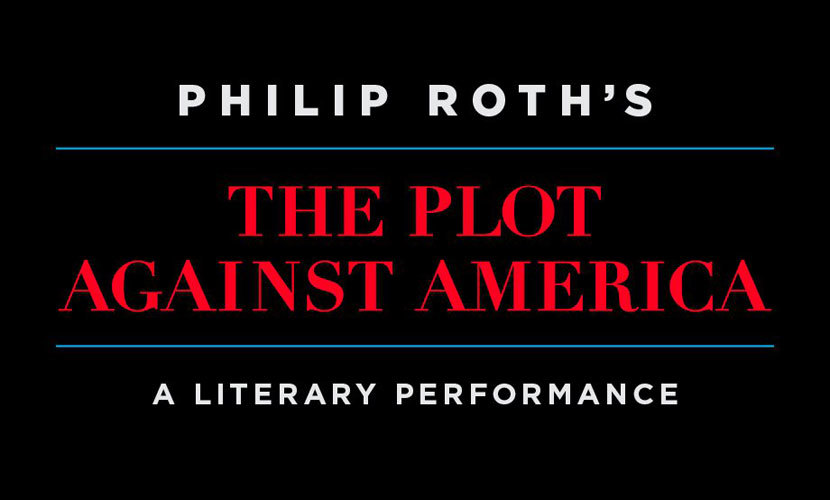 The magnum opus of Philip Roth's late career comes to dramatic life in New York City this Sunday, October 28, when a host of prominent actors—including Ayad Akhtar, Jennifer Ehle, Jon Hamm, André Holland, Elizabeth Marvel, Maggie Siff, and *John Turturro*—will participate in a marathon reading of The Plot Against America at the 92nd Street Y.
The reading starts at 1:00 in the afternoon and will consist of three ninety-minute acts with two intermissions. As of this writing, a few tickets are still available.
The Plot Against America is an alternative history in which hero aviator and staunch isolationist Charles A. Lindbergh becomes president of the United States in 1940 and keeps the country out of war with Nazi Germany—public events experienced through the eyes of a terrified Jewish family, modeled after Roth's own, in Newark, New Jersey. A best seller in 2004, the book is regularly being cited for an almost eerie topicality in the second decade of the twenty-first century.
As reported in The Wall Street Journal, that present-day relevance is what initially led Roth and the 92nd Street Y to begin discussing a possible reading before the author's death at the age of 85 on May 22nd of this year.
The task of reimagining Roth's novel for a dramatic reading fell to James Shapiro, Larry Miller Professor of English at Columbia University, who is the author of several books on William Shakespeare and the editor of the Library of America anthology Shakespeare in America. Shapiro told LOA, via email:
My role in the Roth event has been to take Roth's 150,000-word novel and reduce it to a size suitable for a reading consisting of three ninety-minute segments—which has meant cutting two-thirds of it—without diminishing the impact of the novel. It's akin to what I do with Shakespeare for acting companies that ask me to cut four-hour plays in half. Happily, Roth's novel is beautifully crafted, which made it possible to abridge it without diminishing its force and timeliness.
It took me nearly two weeks, ten-hour days. I knew the novel, but not as intimately as I knew Shakespeare's plays. It meant reading the book—aloud—and then making a first pass, trimming a bit. Then, the next day, doing the same, from start to finish. Happily, I was in a remote location, on holiday, with no distractions, and there wasn't anybody nearby to complain about my reading aloud. I had hoped to trim another thousand words or so, but I had cut down as far as it could be cut without doing damage to the integrity of the novel.
Shapiro added that he took on the project because he enjoyed the challenge and had been moved to learn that Roth was reading his book The Year of Lear (2015) in his final hospital stay.
The presence of so many famous names in the 92nd Street Y's Sunday lineup suggests that the multi-dimensional humanity of Roth's characters in Plot is a powerful draw for actors. Alec Baldwin read from the novel at a Library of America event in 2013—click here to watch an excerpt of that performance.
Sunday's reading at the 92nd Street Y may be just the beginning of The Plot Against America's transition into other media. As was widely reported at the beginning of this year, writer and producer David Simon, best known for his HBO dramas The Wire and The Deuce, is currently developing the novel as a multipart TV series.