This month Library of America caps its three-volume edition of Elmore Leonard's crime fiction with Four Later Novels, which collects the standout books from the latter phase of Leonard's long career: Get Shorty (1990), Rum Punch (1992), Out of Sight (1996), and Tishomingo Blues (2002). As bonus features the book also includes a 1996 short story, "Karen Makes Out," in which Leonard introduced the female protagonist of Out of Sight, and a detailed account by volume editor Gregg Sutter of what it was like to be Leonard's full-time researcher for more than thirty years.
In the following exclusive interview with LOA, Sutter reflects on Leonard's ambivalent relationship with Hollywood, his own experiences exploring new terrain for Leonard's settings, and some of the literary strategies that made Leonard the acknowledged master of crime fiction for a generation of readers and writers.
LOA: With this third and final volume, Library of America's Elmore Leonard edition now spans twelve novels written over nearly thirty years. How do you see Leonard's work evolving over that time? What kind of arc does it trace?
Sutter: The three-volume Library of America Elmore Leonard collection: Four Novels of the 1970s, Four Novels of the 1980s, and Four Later Novels, span the second half of Elmore Leonard's long writing career. Beginning with Fifty-Two Pickup (1974), Elmore embraced a dialogue-driven writing style influenced by George V. Higgins's novel The Friends of Eddie Coyle (1972). He moved his stories from Southern Arizona and other rural locations to his adopted hometown of Detroit, where he created the gritty crime stories of Volume One: the aforementioned Fifty-Two Pickup, Swag (1976), Unknown Man #89 (1977), and The Switch (1978). Critics were beginning to pay attention to his work. In 1977 The New York Times wrote, "[Leonard] can write circles around almost anybody active in the crime novel today."
The second volume opens with City Primeval (1980). For the first time, Elmore cast a cop—a Detroit Police Felony Homicide detective—as lead character. He toyed briefly with the idea of a police procedural series but, restless to tell new stories, changed his focus to South Florida, a fertile territory for crime stories in the Eighties. In LaBrava (1983), a combination of an exotic location (South Beach) and shifting points of view cemented his literary reputation. He would receive his greatest accolades, and New York Times bestseller status, for Glitz (1985), set in Atlantic City, followed by a return to Detroit in Freaky Deaky (1988), which Elmore, many times, described as his favorite novel.
Elmore always tried to do something new and different in each novel. His people were largely cut from the same cloth; decent (the good guys, that is), witty, underestimated, charismatic, and entertaining. Elmore loved his characters—even most of the bad guys. (Teddy Magyk, in Glitz, was the exception; he was just too creepy.) Elmore always sought to explore new areas and have fun writing. If anything changed or evolved during this period, it was the inclusion of more natural humor. This is clearly evident in Get Shorty (1990), Elmore's take on the foibles of Hollywood, which he knew so well.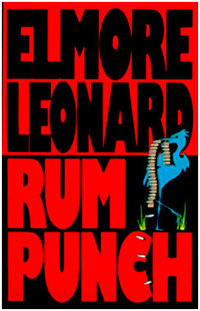 In Rum Punch, Elmore reprised his characters from The Switch, Ordell Robbie, Louis Gara, and Melanie, adding Jackie Burke and Max Cherry. He was always curious about what his characters were doing after their novel was on the shelf. He shifted Rum Punch (1992) back to Florida, moving the action from Miami Beach up to Palm Beach County. Out of Sight (1996) had its origins in the short story "Karen Makes Out" (1996), which is included in Four Later Novels. Writing this short gave Elmore a chance to get to know his U.S. Marshal character, Karen Sisco, before writing the novel.
Finally, in Tishomingo Blues (2002), we see a unique mashup, pitting a Detroit drug gangster, an amusement park high diver, members of the Dixie Mafia, and Civil War re-enactors in a study of how these seemingly random elements collide for humorous and often violent effect.
LOA: Elmore Leonard: Four Later Novels covers the period in which, after years of adaptations that were forgettable or worse, three good movies based on his books came out in close succession: Barry Sonnenfeld's Get Shorty (1995), Quentin Tarantino's rendering of Rum Punch, Jackie Brown (1997), and Steven Soderbergh's Out of Sight (1998). How did these filmmakers get Leonard right, and why did it take so long?
Sutter: During the Western era, several good movies were made from Elmore's books and stories, such as 3:10 to Yuma (1957), Hombre (1967), and Valdez Is Coming (1971). But as he transitioned to contemporary crime and his trademark writing style, things changed. That's because his novels were written in scenes—like a film—and what made them easy to read, nay devour, made them difficult to adapt. His novels were driven by character, not plot, and were written from a character's point of view, with dialogue often in a character's head. So, with Elmore Leonard, you have to go much further than simply adapting a story. You have to extract the essence of the author. Doing so requires a special skill and attitude which no directors, at the time, possessed.
The best example of getting Elmore wrong is the film version of Stick (1983). In 1984, Burt Reynolds directed Stick and played the starring role. Elmore thought Reynolds was the perfect guy to play the character. Unfortunately, Elmore did not come away with the same opinion of Reynolds's direction. After he saw a final cut of the film in June of 1984, Elmore expressed his dissatisfaction to Reynolds in a letter. "What happens is that when I'm writing I see real people and hear real people talking. But when I view the picture I see, too often, actors acting, actors hitting the wrong word, mugging, overstating or elaborating on a punch line, ad-libbing clichés, setting a record for the frequent use of 'asshole.' I hear what seem to me too many beats between exchanges, pauses for reactions, smiles for the benefit of the audience—like saying, get it?—or sneers or wide-eyed looks that I don't see in real life." The film was a personal and box office disaster and contributed to the view that Elmore's work could not be adapted to film.
It would be ten years before Hollywood finally "got" Elmore Leonard, with the release of Get Shorty (1995), directed by Barry Sonnenfeld, which was a box office hit. In rapid succession, Quentin Tarantino made Jackie Brown (1997), followed by Steven Soderbergh's Out of Sight (1998). All three were critically acclaimed because they heeded Elmore's warning. They preserved his dialogue, let the natural humor play out without reaction from other characters, added brilliant touches which enhanced the source material, and masterfully told Elmore's intricate stories.
Sadly, there has not been a good film adaptation since "The Big Three" in the Nineties. Fortunately, the long-running television series Justified (2010-2015) came along and captured Elmore's sound and attitude magnificently.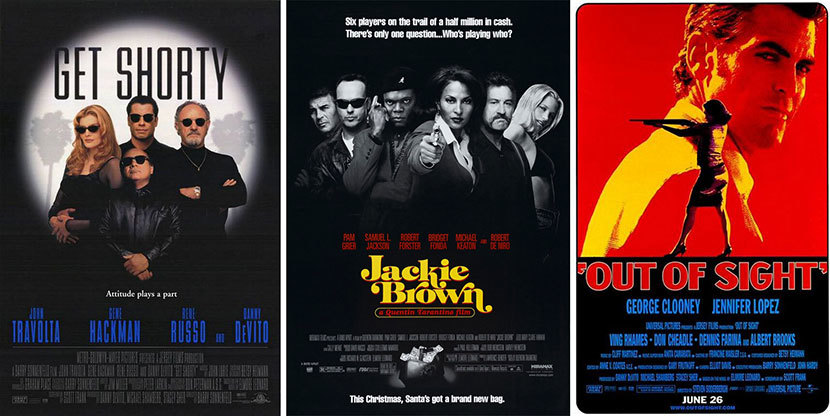 LOA: For people who love the movies, what surprises do the books hold?
Sutter: In an Atlantic article titled, appropriately, "The Elmore Leonard Paradox," Christopher Orr writes "Leonard may have been the most cinematic novelist in the English language. A film buff from an early age, he once said, 'I've always seen my books as movies.'"
The great adaptations, Get Shorty, Jackie Brown, and Out of Sight, take second place—a close one, but still second—to the novels, which are a hybrid of novel and film in their pacing, scenes, characters and, of course, dialogue, both internal and external. A few gems to look for: The Chili Palmer back story in Get Shorty, the Palm Beach Nazi-Klan rally in Rum Punch, and the fine detail about the prison break in Out of Sight.
LOA: Writing in the New York Review of Books recently, Joan Acocella hailed Out of Sight as Leonard's "masterpiece," and singled out its rueful middle-aged romanticism as unique in his oeuvre. Is there something special going on in this novel, published when Leonard was seventy?
Sutter: Romance and love always played an important role in Elmore's life. In his fiction, we have examples of loving relationships like Wayne and Carmen in Killshot, plus the many conflicted love or sexual relationships between male and female characters throughout his work, but nothing has the charged eroticism/forbidden love aspect of the relationship between Jack Foley and Karen Sisco in Out of Sight.
Elmore hit upon the intersection between romance, crime, and humor. Escaping prisoner, Jack, kidnaps U.S. Marshal, Karen, and gets to know her in the trunk of her own vehicle (turned into a getaway car) and then, later, enjoys a romantic interlude with her in a Detroit hotel, where she was sent to hunt him down. Finally, Karen is forced to shoot Jack in the thigh and bring him back to Florida to finish his prison term. What's special about this novel is brilliant storytelling. His age, at the time, had nothing to do with it. Elmore had always been a romantic.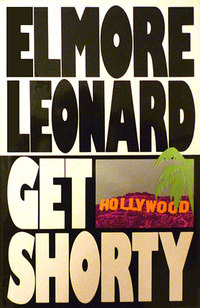 LOA: Get Shorty and Tishomingo Blues are noteworthy for being set in two locales that were new to Leonard's fiction—Southern California and Mississippi. What attracted Elmore to these places as settings? After years of novels set in greater Detroit and South Florida, did these new settings put extra pressure on you, as Leonard's researcher?
Sutter: Los Angeles was hardly a new location for Elmore since he had spent so much time there while working on screenplays in the late Sixties and early Seventies. I went to L.A., in the late Eighties, for Get Shorty, to focus on a few interesting new details. Otherwise, Elmore had Los Angeles down cold.
What attracted Elmore to Mississippi was research that revealed that Tunica, Mississippi was the "Casino Capital of the South." He liked the idea of bringing the high diver, Dennis, there, and the proximity of several Civil War battlefields, which figured prominently in the reenactment subplot.
I would never assign the word "pressure" to my research assignments involving new locations. I always felt a sense of excitement and purpose finding new places for Elmore to set his stories. After I would scout a location like Tunica, Elmore and I would make a trip there together, which was always fun and yielded additional detail. My research could never top what he saw, and the stories that were forming in his head.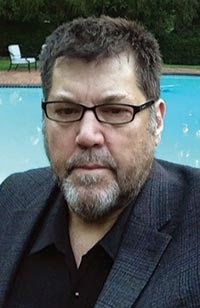 LOA: Your Editor's Note, "On Researching for Elmore Leonard," gives a vivid sense of some of the real-life figures on both sides of the law who helped inspire characters and situations in these novels. After the books were published, did you ever hear back from any of them about how their worlds were portrayed in Leonard's fiction?
Sutter: I remained friends with many of our research subjects. I moved down to Florida in 1992 and lived there until 1997. During that time, the real Chili Palmer, Ernesto "Chili" Palmer and I were friends and would often meet at Laurenzo's Italian Market and Deli on 164th St. and Dixie Hwy in North Miami Beach for lunch. I would revel in his Mafia stories about Jimmy Blue Eyes and Matty the Horse. Since Maximum Bob (1991) days, Elmore and I became friends with James O. Born, a Special Agent for the Florida Department of Law Enforcement and, now, a successful author. Jim was tremendously helpful to us on Rum Punch and Out of Sight. He and fellow FDLE agent Jeff Hutcheon gave us the inside scoop on the escape of five Cuban prisoners from a Palm Beach County prison, which Elmore used to great effect in Out of Sight. Finally, while researching Tishomingo Blues, we met high diver Danny Cosmo, whom both Elmore and I remained close to over the years.
There are many others who helped us with research over the years, to whom I will always be grateful for their generosity and their enthusiasm in sharing their stories and craft.