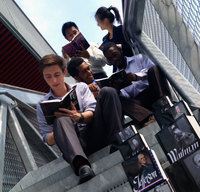 Students at New York City's Trinity School are borrowing definitive collections of American literature from the school library, thanks to a gift of Library of America volumes from LOA trustee and Trinity School parent Matthew McLennan.
New LOA volumes were also recently acquired by The Spence School, also in New York City, through a generous gift from LOA Fellow Diane Nixon.
Through Library of America's Gift Sets Program, you can make a tax-deductible gift of essential American writings to an institution of your choice—such as a child's school, your alma mater, or a public library—and help foster appreciation of the words that have shaped the nation.
Your gift of Library of America volumes can be made in honor of a friend or family member—this is a wonderful way to recognize an enthusiastic reader or regular patron of a particular library. A gift set can also have special impact at an underserved public school or community center that would not otherwise be able to acquire a core collection of American writing for its library.
To purchase a gift set, please contact Caroline Horn at support@loa.org or 212-308-3360.