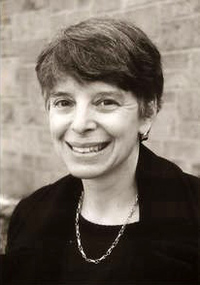 We recently asked Janna Malamud Smith, whose several books include My Father Is a Book: A Memoir of Bernard Malamud, which of her father's novels or stories were among her favorites.
---
Writers' children are not good readers of their parents' books. At least, I'm not. Whenever I read my father's stories or novels, I get vertigo. It's as if I'm wearing crazy glasses that hide and show a world to which other readers remain oblivious. My lenses see through the surface, into the depths where a lot of stuff crawls around. Meanwhile, they obscure the more obvious landscape. I get confused about what I'm supposed to be examining. I suppose you can say that I can't stop myself from querying the line between my father's written fantasies and his lived life. I intuitively sense in the stories much about the person I knew—his feelings, his experience, his psychological themes. Sometimes it's as if the fictions themselves don't adhere and crumble before me. So my opinions need to be taken with a big grain of salt—a truth driven home again lately when my husband read The Fixer and said, "I never read it all these years because you didn't like it. But I thought it was really good." Enough said.
Still, there are works of his I really love—among them, The Assistant, the early chapters of Pictures of Fidelman, a bunch of the stories in The Magic Barrel, and so forth. My all-time favorite is "The Jewbird." Published in his short story collection Idiots First, it begins as a laugh-out-loud funny story, and it ends very darkly. He read it frequently at public readings, and I remember how much I loved hearing it. Part of the pleasure was that it reminded me of the bedtime stories he'd told my brother and me when we were little. He—not surprisingly—was gifted at holding children spellbound with bewitching tales. He invented characters (all the heroes were guys, and women generally were bad witches, but I won't dwell there right now) and he kept their adventures running on across many bedtimes. Talking animals were frequently in the mix. And he loved to make us laugh. I particularly favored the tales he told about an ingenious, very busy, trouble-making raccoon who lived in our local small-town zoo.
In adulthood I have loved "The Jewbird" also for its ironic, deeply humanistic take on anti-Semitism. It captures well the complex entangling of self-hatred and hatred that haunts everyone, but haunts some people more.