Tom Nolan is the editor of The Library of America's new title Ross Macdonald: Four Novels of the 1950s. In this, the second of three exclusives about Macdonald's life and work, he relates the biographical circumstances that help explain why Macdonald was able to regard California, the state in which he was born, with both the knowingness of a local and the detachment of an outsider.
Readers around the globe found an imaginative vision of Southern California in the fiction of Ross Macdonald. But Macdonald himself—by birth Kenneth Millar—was raised far from the promised glow of the Golden State, up north in frigid Canada. The bright but impoverished son of a fractured family, young Kennie was shunted across four provinces from one relative to another. His mother, however, continued to remind him that he'd been born near San Francisco (in Los Gatos, also at one time the home of John Steinbeck) and instilled in him the notion that he "belonged" in California. It took thirty years for this pauper-prince to find his way back (with a wife and child) to his state of origin. Once there, of course, he was a stranger in a strange land.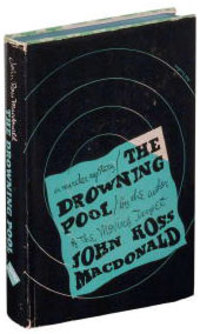 In Santa Barbara, where the Millars settled at once and for good, he felt especially out of place: a still far-from-wealthy man in a town of many millionaires, a bookish PhD. candidate and strict moralist in a city rife with hedonists. (Macdonald skewered the sexual preoccupations and artistic pretensions of certain Santa Barbarans in his 1950 novel The Drowning Pool.) Ninety miles to the south was Hollywood, with its low-hanging poisoned fruit. Visible from his backyard was a mountain range which for years seemed to Millar like the Great Wall of China, cutting him off from the main social and intellectual currents of American life.
But Ross Macdonald was in a long tradition of California chroniclers from elsewhere: Ambrose Bierce (Ohio), Nathanael West (New York), John Fante (Colorado), James M. Cain (Maryland), Raymond Chandler (Illinois)—outsiders who observed with a fresh and often wary eye. As a beginning Southland novelist, Macdonald was drawn in his early books to the lurid moving targets that had already caught the eyes of his 1930s and '40s predecessors: the Sunset Strip gangsters (Danny Dowser, the mobster in The Way Some People Die, seems a caricature of Mickey Cohen, the L.A. hood who became a '50s celebrity), the Hollywood dream factories (see The Barbarous Coast), the self-serving faux-sophistication of well-to-do adulterers, and the cruder entertainments of the lower classes.
Macdonald's vision widened and deepened as he wrote through the 1950s and '60s, and as California society changed. Crass hoodlums faded from public view, and Macdonald's examination of Southern California's sins focused inward: on dysfunctional families, the generation gap, and the timeless greeds of dubious characters gravitating to the Western edge of the country to reinvent themselves and start anew.
Con artists posed as aristocrats. New money hid its source. Expectant beneficiaries mortgaged their souls in anticipation of future wealth. Embittered spouses choked on private resentments. Abused children smashed out at hypocrisy through sex, drugs, violence. And the past threatened to reveal sordid and dangerous secrets: a hushed-up first marriage, an ex-con sibling, a skeleton in the desert.
As Ross Macdonald came into his mature themes and style throughout the '60s, he was recognized not just as a superior detective novelist but as a significant regional (hence national) author. Canadian Kenneth Millar, like many Golden State emigrants, and many of the characters he wrote of, had reinvented himself—as the California-American Ross Macdonald.
In the process, he Canadianized his new home in print. He held its natives to a higher moral standard than they might aspire to, described the physical landscape and its creatures with the sensibility of one raised in a land that valued such beauty, and expressed profound awareness of how the past irrevocably influenced the present: a strong theme in contemporary Canadian fiction (from Margaret Laurence to Robertson Davies to Margaret Atwood) as much as in the post-hard-boiled novels of Ross Macdonald.
Correction: An earlier version of this post incorrectly identified Los Gatos as John Steinbeck's birthplace. In fact, Steinbeck was born in Salinas; he moved with his wife to Los Gatos (now Monte Sereno) in the mid-1930s.