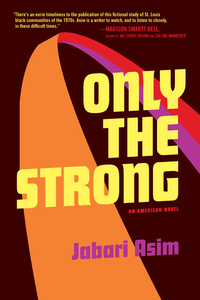 Our series of guest blog posts by writers of fiction, history, essays, and poetry continues today with a contribution by Jabari Asim, whose debut novel Only the Strong was published in May. Below, Asim cites some of the key influences on his novel, which is set in Gateway City, a fictional Midwestern metropolis that bears more than a passing similarity to the author's native St. Louis. Writing in the Washington Post, Gerald Early called Only the Strong "affecting, even touching, in telling something about the way black people live," while Madison Smart Bell has praised its "deceptively light handling of desperately serious subject matter," and hailed Asim as "a writer to watch."
---
I Can't Wait on God, Albert French. French's 1998 novel mines the alleys and streets of Pittsburgh's Homewood community for its story of crime, passion, and missed opportunities. The setting and its many residents compete for center stage, and they are distinctively and vividly drawn. Characters like Dicky Bird, Willet, and Mack Jack strut and swagger through a rigidly segregated 1950s world, navigating darkness, bellowing trains, gossip, and swaying hips. French devotes descriptive attention to every character who deserves it, including those whose doom seems a foregone conclusion.
Devil in a Blue Dress, Walter Mosley. Like the playwright August Wilson, Mosley has few peers when it comes to using language to illuminate the experience of black men in America. His exchanges between his black male characters, whether hostile or warm-hearted, are reliably revelatory while retaining the veracity of street-honed poetry. Equal parts strength and vulnerability, Easy Rawlins is a quintessential black literary hero.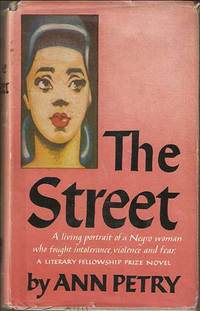 The Street, Ann Petry. I've always admired Petry's focus on what I like to call the hard-working middle, black people at neither extreme of human behavior who generally escape notice, toiling away at dead-end jobs as world-changing events unfold all around them. Lutie Johnson, the central figure in Petry's best-known novel, anticipates the hapless protagonists of Stevie Wonder's "Living for the City," vulnerable to urban predations and institutional racism even as she works earnestly to better her circumstances.
I Sailed With Magellan, Stuart Dybek. I first encountered Dybek's work in Childhood and Other Stories. I admired his unapologetic affection for the working-class youngsters wandering Chicago's unyielding streets. I Sailed With Magellan influenced A Taste of Honey, my own collection of linked stories, and continued to resonate while I worked on Only the Strong. He mixes the gritty and the elegiac with the kind of consummate ease that I was aiming for.
The Book of Numbers, Robert Deane Pharr. Pharr's novel, set in 1935 in an unnamed Southern town, shines with the author's knowledge of "underground economies." His knack for the telling detail fuels his persuasive chronicle of two men's quick rise to top of the local numbers racket. Dave Green and Blueboy Harris are both fascinating figures, but Blueboy, the older of the two, intrigues me most. Ananias Goode, the crime boss in Only the Strong, has some of Blueboy's worldly-wise cynicism. In Goode's blistering tirades, I hear some of Blueboy's hardboiled philosophy: "I ain't no wise man, but I been everywhere and done everything a black man can do in this white bastards' world. And you are welcome to any facts I mighta picked up."
Empire Falls, Richard Russo. At first glance, Russo's lily-white New England town may appear to have little in common with the all-black, Midwestern neighborhood at the center of Only the Strong. But the residents of Empire Falls, while not confined by systemic racism and strictly enforced racial segregation, must also cope with isolation of a sort. I admired Russo's careful plotting as his characters struggled on the margins, coping with economic decline and long-simmering conflicts that come to a boil. He keeps firm hold of multiple narrative strands that would prove overwhelming in less dexterous hands.
We Can't Breathe, Ronald Fair. I first discovered Ronald Fair when I was in college, voraciously devouring The Hog Butcher (about the fatal police shooting of an unarmed black youth), World of Nothing, and We Can't Breathe. In the latter, readers get to spend five years with Ernie Johnson, a young black boy growing up in 1930s Chicago. Ernie's South Side neighborhood has much in common with my North Gateway, despite the distance of several decades. I learned from Fair's skillful use of situational humor to leaven his unblinking portrayal of elements often found in novels about life in the inner city, including racism, violence, and predatory policemen.
---
Jabari Asim is an associate professor of creative writing at Emerson College and the executive editor of The Crisis, the official magazine of the NAACP. His previous publications include the short story collection A Taste of Honey (2010) and several works of nonfiction.