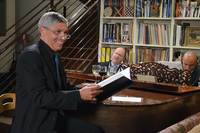 In honor of The Library of America's just-published interview earlier this week with that book's editor, Todd Tietchen, we've now reached into the video vault for a program related to our previous Kerouac title, 2012's _Collected Poems.
The date was November 14, 2012, the location a private residence in New York City. The Library of America brought together actor Peter Francis James, tenor saxophonist Loren Schoenberg, and pianist Aaron Diehl for a jazz-inflected reading of Kerouac's poetry and prose that paid homage to Poetry for the Beat Generation, the spoken-word LP Kerouac recorded in 1959, accompanied by Steve Allen on piano.
If viewers familiar with the original album occasionally suspect that James, Schoenberg, and Diehl surpass Kerouac's own renderings of his works, that's understandable given the credentials the trio brought to their collaboration. Among his many other credits James has appeared on Broadway opposite Al Pacino in The Merchant of Venice, had recurring roles on TV's Oz and Law and Order, and made a name for himself as a reader of audiobooks. In addition to being a sax player, Schoenberg is the Founding Director and Senior Scholar of the National Jazz Museum in Harlem and the author of The NPR Curious Listener's Guide to Jazz (2002). Diehl is the recipient of the 2011 Cole Porter Fellowship from the American Pianists Association and was named the 2014 Monterey Jazz Festival Commission Artist—one of the youngest artists to receive that honor.
Enjoy the clips below, and watch the complete video of the trio's performance here.

Video: Three choruses from Mexico City Blues (3:49)

Video: Excerpts from On the Road and Visions of Cody (4:21)