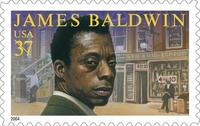 Library of America fans in the greater New York City area will want to know that the Film Society of Lincoln Center has just announced a comprehensive four-day film series dedicated to James Baldwin. "The Devil Finds Work: James Baldwin on Film" runs from September 11 through 14 and will include compilations of Baldwin's TV appearances as well as documentaries about him and in which he appeared, including a remastered edition of James Baldwin: The Price of the Ticket, Karen Thorsen's much-lauded biographical portrait from 1989.
Baldwin fans will of course recognize the series' title as a nod to The Devil Finds Work, his book-length 1976 meditation on American cinema and the myriad ways it shapes and embodies national attitudes on race. In tribute to that book, the Film Society will screen Ingmar Bergman's Sawdust and Tinsel, for which he expressed great admiration in his 1960 essay on Bergman, as well as Stanley Kramer's The Defiant Ones, the subject of some of Baldwin's most withering commentary.
The Film Society's retrospective arrives at a moment when Baldwin, who died in 1987, suddenly seems an all but ubiquitous presence in American cultural life. Readers can judge for themselves the extent to which current events in the U.S. confirm the enduring relevance of Baldwin's critiques, but it's clear the publication earlier this summer of Ta-Nehisi Coates's Between the World and Me has prompted a renewed interest in his work. (A blurb from Toni Morrison on the jacket of Between the World and Me names Coates as Baldwin's intellectual heir.) The Library of America itself, for instance, has recently seen a dramatic spike in sales of its edition of Baldwin's Collected Essays.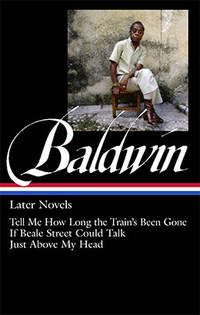 Two weeks after the Film Society series, LOA makes another contribution to the Baldwin resurgence with the publication of James Baldwin: Later Novels, which collects three titles from the late '60s and '70s—Tell Me How Long the Train's Been Gone, If Beale Street Could Talk, and Just Above My Head—that are overdue for reassessment by critics and general readers alike. If these books can be granted the kind of consideration that has long been given to earlier Baldwin novels like Go Tell It on the Mountain—and with the larger culture clearly more ready to engage with Baldwin's explorations of sexual identity than it was in decades past—then it seems safe to assert that Baldwin isn't so much enjoying a cultural "moment" as he is assuming his rightful position as one of the central American writers of the second half of the twentieth century.
The complete screening schedule for The Film Society of Lincoln Center series "The Devil Finds Work: James Baldwin on Film" is available at filmlinc.com. The Library of America publishes James Baldwin: Later Novels on September 29, 2015.