From Reconstruction: Voices from America's First Great Struggle for Racial Equality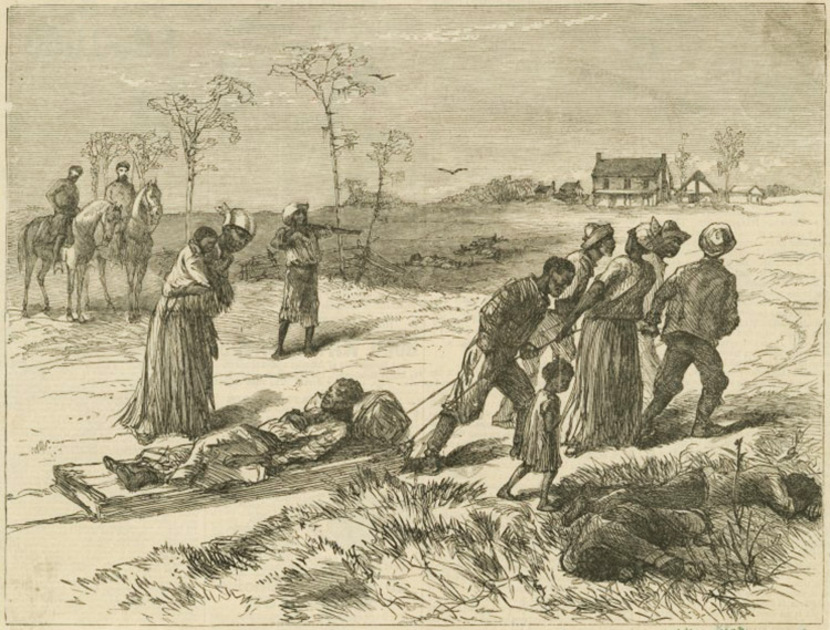 The Colfax Massacre occurred 150 years ago, on April 13, 1873.
On a rainy Easter Sunday evening in Grant Parish, Louisiana, dozens of Black residents, many of whom had been assigned to protect the courthouse, were slaughtered by a white mob numbering between 200 and 300 men who were upset with the results of the election the previous year—and furious that Black citizens had been assigned to protect the (white) parish officers installed by the new governor. In addition to the guards, some victims had taken refuge near the courthouse after a local Black farmer had been brazenly murdered the previous week.
The courthouse was set ablaze with dozens inside, and anyone who tried to escape was shot. "Most of those who were not killed were taken prisoners," summarized the judge at the murder trial the following year. "Fifteen or sixteen of the blacks had lifted the boards and taken refuge under the floor of the courthouse. They were all captured. About thirty-seven men were taken prisoners. The number is not definitely fixed. They were kept under guard until dark. They were led out, two by two, and shot. Most of the men were shot to death. A few were wounded, not mortally, and by pretending to be dead were afterwards, during the night, able to make their escape."
In all, at least seventy—and possibly as many as 150—men were murdered. Two of the survivors testified at the trial, and we present their testimony as our Story of the Week selection, with an introduction detailing the events that led to the massacre and explaining how, despite three convictions, a Supreme Court decision ensured that not a single perpetrator was ever punished for their crimes.
Read "The Colfax Massacre Trial," by Levi Nelson and Benjamin Brim