Nathaniel Hawthorne (1804–1864)
From True Crime: An American Anthology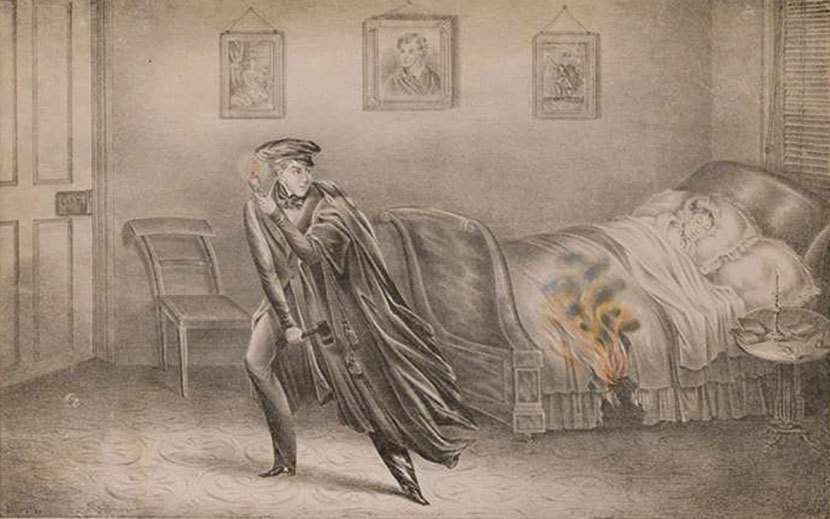 Tomorrow, July 4, is the 215th anniversary of Nathaniel Hawthorne's birth.
Each year, in Hawthorne's hometown of Salem, the city's residents would converge for Independence Day festivities on the Common, where there would be various exhibits, shows, and booths "selling gingerbread, sugar-plums, and confectionery, spruce beer, lemonade." Spirits are forbidden, Hawthorne wrote in his journal one year, "but probably sold stealthily." A monkey entertains a small crowd but escapes to the top of the booth's frame when a group of young boys begins to taunt him. "The customers are rather riotous . . . but generally a good-natured tumult" and late in the evening, there is a fireworks display.
That year he was particularly entranced by a waxworks exhibition, which featured lifelike figures of famous murderers. The proprietor boasted to Hawthorne that over a thousand of people visited his exhibit on the Fourth of July. The future author of The Scarlet Letter and The House of the Seven Gables was a lifelong fanatic of what we would now call the true crime genre; one of his favorite books was The Record of Crimes in the United States, which boasted as a subtitle "A Brief Sketch of the Prominent Traits in the Character and Conduct of Many of the Most Notorious Malefactors Who Have Been Guilty of Capital Offences and Who Have Been Detected and Convicted."
For our Story of the Week selection, then, we present the entry in his journal describing his visit to the wax museum, which highlighted some the most famous murder cases of the early 1800s.