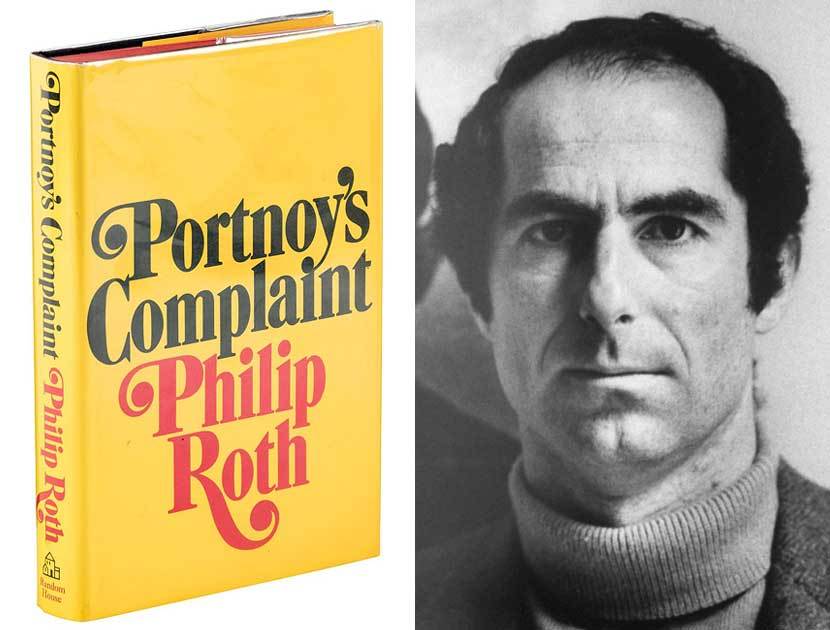 The New Yorker called it "one of the dirtiest books ever published." For the Los Angeles Times, it was "the sickest book of the decade."
The work in question was Portnoy's Complaint, Philip Roth's third novel, which he set loose on an unsuspecting world exactly fifty years ago this month. The book's frank treatment of one American Jewish male's sexual neuroses and its wild, frequently self-lacerating humor made it a cultural phenomenon that resulted in instant best seller status and, for Roth, a disorienting new level of literary celebrity.
(The book's minimalist dust jacket, by Paul Bacon, became something of an icon in its own right, and set the template for all of Roth's subsequent releases over most of the next decade.)
Roth's 1974 essay "Imagining Jews" (included in the Library of America Roth volume Why Write? Collected Nonfiction 1960–2013), remains the essential post-mortem on the Portnoy affair, and an eloquent defense of artistic freedom. But for a more recent retrospective, we can turn to a talk that Israeli American writer Bernard Avishai gave in Stockholm last December titled "Roth and Jewishness."
Avishai is well equipped to address the subject, having devoted an entire book, the 2012 critical study Promiscuous: Portnoy's Complaint and Our Doomed Pursuit of Happiness, to the controversies surrounding Roth's most notorious protagonist. In the excerpt below, he elaborates on a crucial point: "For Roth, the laugh is on Portnoy, too—especially Portnoy."
Watch:
Avishai's remarks were part of an evening-length memorial tribute to Roth presented by the Swedish nonprofit organization Jewish Culture in Sweden (Judisk kultur i Sverige) on December 10. (The December date, around the time of year when the Nobel Prize in Literature has traditionally been awarded, was a pointed reference both to the fact that Roth never won the Nobel and to the indefinite postponement of the Literature Prize following a scandal at the Swedish Academy, the Prize's governing body.)
Avishai was just one of several distinguished speakers, both American and Swedish, at the Jewish Culture memorial event. A partial list appears below; click on the highlighted names to begin watching each talk, or start with the complete program here.
Adam Gopnik, "Philip Roth's Works: A Retrospective"
Lisa Halliday, "The Significance of Philip Roth's Works for Younger Readers"
Claudia Roth Pierpont, "Philip Roth: A Woman's Perspective"
Daniel Sandström, "Philip Roth: A Swedish Perspective"
Portnoy's Complaint is included in the Library of America volume Philip Roth: Novels 1967–1972.