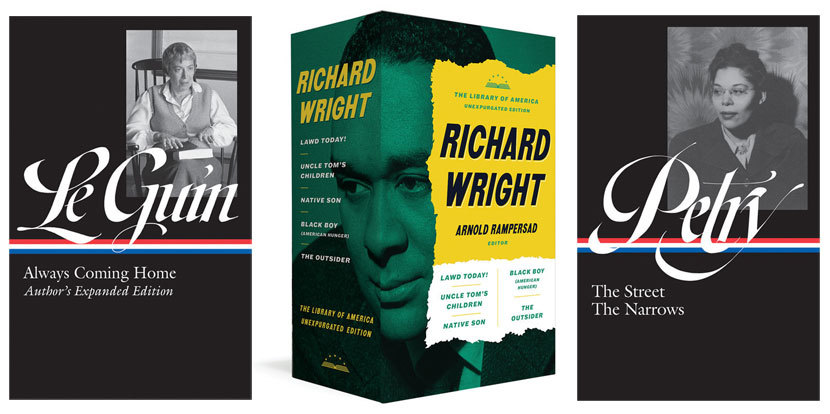 We're excited to share our eclectic mix of titles coming in the first half of 2019: from classic military history to pathbreaking modern novels, from brilliant speculative fiction to indispensable essays by a twenty-first-century Thoreau, and from the timeless wisdom of one of our greatest poets to the daily dispatches of our most enduring sports columnists. Browse the list below for information about contents and publication dates; scroll further down the page for a more detailed description of each new title.
LIBRARY OF AMERICA SERIES
John O'Hara
Four Novels of the 1930s
Appointment in Samarra • Butterfield 8 • Hope of Heaven • Pal Joey
Steven Goldleaf, editor
Library of America #313 / ISBN 978-159853-600-3
January 2019
Ann Petry
The Street, The Narrows
Farah Jasmine Griffin, editor
Library of America #314 / ISBN 978-159853-601-0
February 2019
Ursula K. Le Guin
Always Coming Home (Author's Expanded Edition)
Brian Attebery, editor
Library of America #315 / ISBN 978-159853-603-4
February 2019
Wendell Berry
What I Stand On: The Collected Essays of Wendell Berry 1969–2017 (two volumes)
Jack Shoemaker, editor
Volume 1: Essays 1969–1990
Library of America Series #316 / ISBN 978-159853-606-5
Volume 2: Essays 1993–2017
Library of America Series #317 / ISBN 978-159853-608-9
Boxed set: ISBN 978-159853-610-2
April 2019
Cornelius Ryan
The Longest Day, A Bridge Too Far
Rick Atkinson, editor
Library of America #318 / ISBN 978-159853-611-9
May 2019
Booth Tarkington
Novels & Stories
The Magnificent Ambersons • Alice Adams • In the Arena
Thomas Mallon, editor
Library of America #319 / ISBN 978-159853-620-1
June 2019
SPECIAL PUBLICATIONS
The Great American Sports Page: A Century of Classic Columns
John Schulian, editor
ISBN 978-159853-612-6
March 2019
Walt Whitman Speaks: His Final Thoughts on Life, Writing, Spirituality, and the Promise of America
As told to Horace Traubel
Brenda Wineapple, editor
ISBN 978-159853-614-0
April 2019
BOXED SET
Richard Wright: The Library of America Unexpurgated Edition (two volumes)
ISBN 978-159853-622-5
January 2019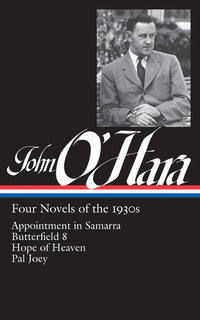 John O'Hara returns to the series with a collection of four novels that are among his most acclaimed works, including his landmark 1934 debut Appointment in Samarra (#22 on Modern Library's list of the top 100 novels in English), and Butterfield 8 (1935), a dazzling portrait of the speakeasy culture of Prohibition New York. Rounding out the volume are Hope of Heaven, O'Hara's long-out-of-print Hollywood novel, inspired by his first stint as a screenwriter, and the pitch-perfect Pal Joey, an epistolary novel recounting the comic adventures of the louche nightclub emcee later immortalized in the Rodgers and Hart musical.
Increasingly recognized as one of the foremost African American writers of the twentieth century, Ann Petry joins Zora Neale Hurston, Richard Wright, and James Baldwin in the Library of America series in a volume that pairs two of her masterworks. Published in 1946 to widespread critical and popular acclaim—it was the first novel by an African American woman to sell over a million copies—The Street (1946) follows a young, newly single mother in Harlem as she struggles to make a better life for her son. Petry's even more accomplished follow-up, The Narrows (1953), is a multi-layered, stylistically innovative exploration of race, class, sexuality, gender, and power in postwar America, centered on an adulterous interracial affair in a small Connecticut town. The volume also features three essays by Petry on Harlem and her craft and a newly-researched chronology of Petry's life and career prepared by scholar Farah Jasmine Griffin in consultation with Petry's daughter.
This fourth volume in the Library of America edition of Ursula K. Le Guin's work presents her most ambitious novel, Always Coming Home (1985), in a newly expanded version prepared with Le Guin shortly before her death earlier this year. Combining history and myth, fables and poems, songs and sketches in the form of an anthropologist's report, the book is a full-scale imagining of a post-apocalyptic California. It is presented here with sixty-five pages of never-before-published additional material, including the complete novel-within-a-novel Dangerous People, 100 pages of Le Guin's essays on the genesis and larger aims of the novel, and all 100 of Margaret Chodos's original drawings.
For more than fifty years, Wendell Berry has been our leading writer on the cultural crisis brought on by industrialization and mass consumerism, calling us to reorient ourselves to the natural world, to rediscover the value of rootedness, of slowness, of commitment to work, to community, to the earth beneath our feet and to the farmers who extract from it the food to sustain us. What I Stand On: The Collected Essays of Wendell Berry 1969–2017 presents in two volumes the very best of his nonfiction, including such seminal books as The Unsettling of America and Life Is a Miracle in full, along with generous selections from more than a dozen other volumes, revealing as never before the evolution of Berry's thoughts and concerns as a farmer, neighbor, citizen, teacher, activist, and ecological philosopher.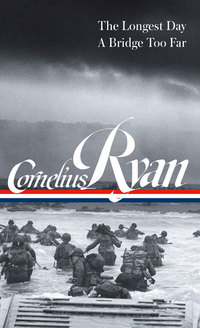 For the seventy-fifth anniversary of D-Day, we present a deluxe edition gathering two of the best books ever written about World War II: The Longest Day and A Bridge Too Far. The first tells the story of the Allies' greatest success, the Normandy invasions of June 6, 1944, Operation Overlord; the second perhaps their greatest failure, the catastrophic airborne invasion of Holland in September 1944, known as Operation Market Garden. Together, they reveal not only the twisting fortunes of war and the grand sweep and scale of the largest amphibious and airborne invasions ever mounted, but also the very real human experience of combat, the small but momentous individual acts that can change the course of history. No one has told these stories more powerfully than the Irish-American journalist-turned-historian Cornelius Ryan. This deluxe collector's edition, prepared with Pulitzer Prize–winning journalist-turned-historian Rick Atkinson, includes full-color endpaper maps, eighty-eight pages of photos, a selection of Ryan's wartime reporting, and rare material revealing his innovative research methods.
A first-of-its-kind anthology, The Great American Sports Page: A Century of Classic Columns focuses on a particular kind of sportswriting—the column in the daily newspaper—in a manner unmatched by any other available collection. Its nearly one-hundred-year span brings together storied names like Ring Lardner, Damon Runyon, and Red Smith along with more contemporary figures, some of whom are now well known as television personalities (Tony Kornheiser, Bob Ryan) or for their other writings (Jimmy Breslin, Mitch Albom). Editor John Schulian also highlights women's contributions to sportswriting with the inclusion of pioneering female journalists like Diane K. Shah, Jane Leavy, and Sally Jenkins, who broke through an exclusively male bastion in the 1970s and '80s.
From the mid-1880s until his death in 1892, Walt Whitman, now living in Camden, New Jersey, was visited almost daily by Horace Traubel, a young reform-minded journalist who described himself as Whitman's "spiritual child." Traubel's meticulous record of his conversations with Whitman became the basis of his nine-volume biography, Walt Whitman in Camden. Like Boswell's Life of Johnson, but even more so, Traubel preserved Whitman's voice, interlacing the biography with Whitman's own words, pithy sayings, and priceless wisdom. Now, for the 200th anniversary of Whitman's birth, Library of America and acclaimed author Brenda Wineapple team up gather the best of these sayings in Walt Whitman Speaks: His Final Thoughts on Life, Writing, Spirituality, and the Promise of America, a wisdom book of enduring insights that speaks eloquently and indelibly from Whitman's age to our own.
Booth Tarkington: Novels & Stories collects two Pulitzer Prize–winning novels that also became the basis for classic Hollywood films as well as the political stories gathered in In the Arena. Drawing on a lifetime's experience of his native Indiana, Tarkington dramatizes the vicissitudes of class and status against a backdrop of transformative industrialization and social change at the turn of the last century. Edited by Thomas Mallon, the volume is timed for the 150th anniversary of Tarkington's birth.
Lastly, for Black History Month, we reissue our two-volume Richard Wright edition, first published in 1991, in a deluxe boxed set. Perhaps the most significant textual contribution by the LOA in our history, this edition restores sentences and whole scenes cut by the original publishers in response to demands from book clubs.