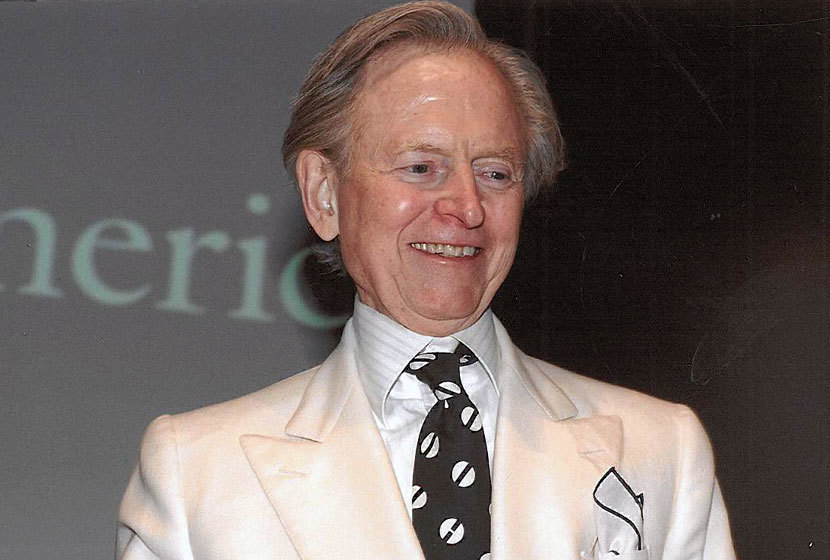 Library of America joins readers and writers everywhere in mourning the loss of journalist and novelist Tom Wolfe, who died on Monday in New York City at the age of 88. A major figure in the New Journalism of the 1960s and '70s, responsible for nonfiction classics like The Electric Kool-Aid Acid Test (1968) and The Right Stuff (1979), Wolfe subsequently reinvented himself as a novelist with the publication of _The Bonfire of the Vanities in 1987 and went on to publish three more novels. He served for many years on LOA's Board of Advisors, and his nonfiction writing appears in five Library of America anthologies (see below for a complete list).
At Library of America's twenty-fifth anniversary celebration, in 2007, Wolfe paid generous tribute to Stephen Crane, whom he hailed as "an absolutely dedicated reporter." For Wolfe, a former newspaperman himself, that was far from casual praise. In his view Crane was a progenitor of the American literary realism Wolfe had famously championed in his introduction to The New Journalism, the 1973 anthology he co-edited with E. W. Johnson, and more pugnaciously in his 1989 essay "Stalking the Billion-Footed Beast." From the very beginning of his 2007 address, Wolfe offers a similarly vigorous argument for the realist school, which he posits as the zenith of American literature.
Now, to get down to cases, I know that practically everyone here realizes that the great era of American fiction ran for only 46 years, beginning in 1893 and ending in 1939. In that period we have Dreiser, F. Scott Fitzgerald, Dos Passos, Hemingway, Faulkner, Sinclair Lewis, my namesake Thomas Wolfe, Edith Wharton, Richard Wright, Zora Neale Hurston, James T. Farrell, and James M. Cain, for that matter—did I mention Faulkner, I hope so—and William Faulkner. There has never been anything like it, and it's beginning to look like there never will be again.
Watch Wolfe's complete remarks below.

Watch: Tom Wolfe at the Library of America 25th anniversary celebration in 2007. (14:03)
Tom Wolfe in Library of America:
"The Truest Sport: Jousting with Sam and Charlie " and excerpt from The Electric Kool-Aid Acid Test in Reporting Vietnam: American Journalism 1959–1969
"Mau-Mauing the Flak Catchers" (excerpt) in Reporting Civil Rights: American Journalism 1963–1973
Excerpt from The Right Stuff in Into the Blue: American Writing on Aviation and Spaceflight
"A Sunday Kind of Love" in Writing New York: A Literary Anthology
"The Secret Vice" in The 50 Funniest American Writers: An Anthology of Humor from Mark Twain to The Onion