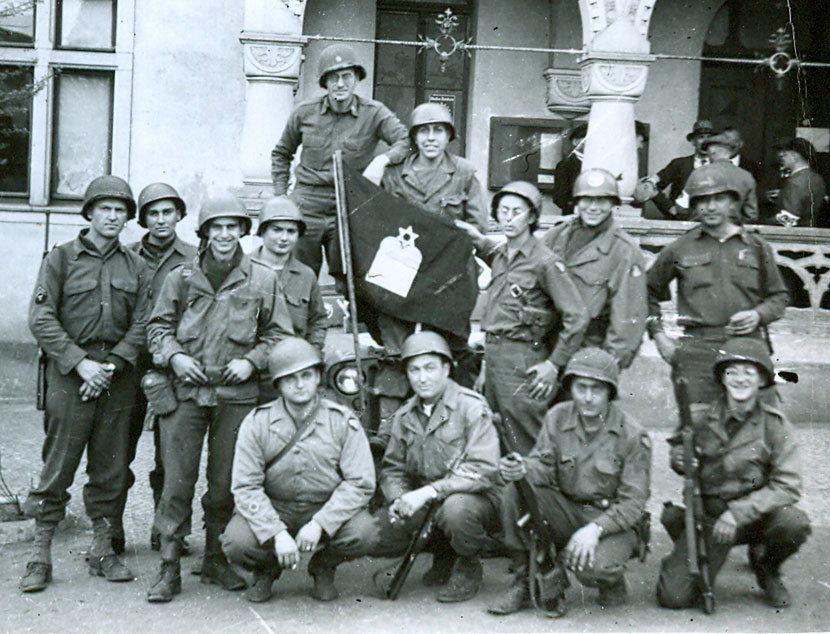 In his 1987 poem "IFF," based on his experience flying for the Royal Canadian Air Force in the Second World War and collected in the Library of America volume Poets of World War II, Howard Nemerov refers to his navigator, "Bert,"
Who shyly explained to me that the Jews
Were ruining England and Hitler might be wrong
But he had the right idea. . .
Nemerov was himself Jewish; the title of his poem stands for "Identification Friend or Foe," which suggests the ambiguity of his position vis-à-vis his fellow crew member.
That kind of ambiguity, along with a score of other unique perspectives on America's involvement in World War II, reaches a broad audience on April 11 with the PBS broadcast premiere of GI Jews: Jewish Americans in World War II, a feature-length documentary that focuses on the more than 550,000 Jewish Americans who served in the United States military during World War II.
Directed by Lisa Ades, the film brings to light the contributions made by American servicemen and -women who had to contend with anti-Semitic prejudice in their own ranks even as they worked to defeat the Axis powers. Famous names like Mel Brooks and Carl Reiner share their testimony alongside lesser-known men and women who served in every branch of the U.S. military.
By December 1942, Edward R. Murrow was reporting from London on the Nazi extermination of European Jews, and the growing awareness of just what was happening behind enemy lines gave an extra urgency to the American Jewish war effort. (Murrow's report, "A Horror Beyond What Imagination Can Grasp," is included in the two-volume Library of America set Reporting World War II, along with several firsthand accounts of the Allies' discoveries of concentration camps later in the war.)
The documentary argues that in the postwar years this generation of American Jews helped change a society that had "systematically excluded Jews from much of the country's institutional and corporate life" (as Philip Roth wrote in 2002).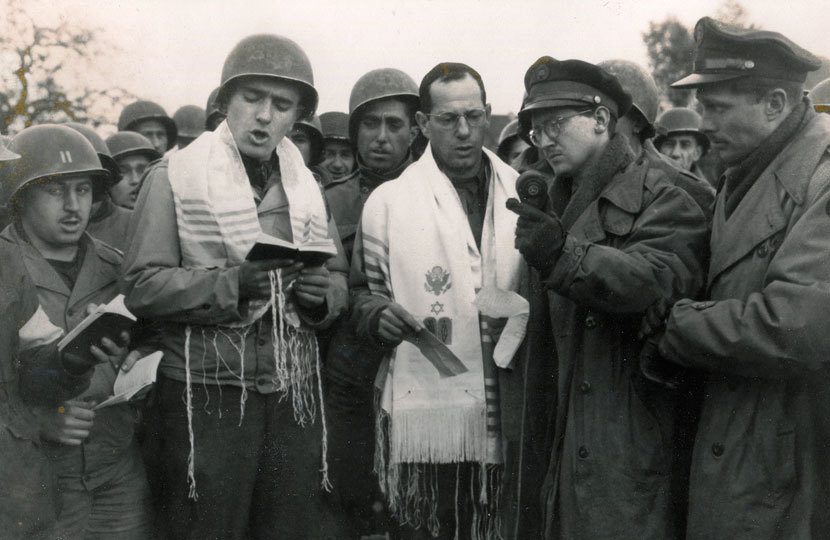 Library of America readers may also be interested to learn that authors Norman Mailer and J. D. Salinger are among the Jewish veterans whose stories figure in the film. Mailer's tour of duty in the Pacific theater became creative grist for his 1948 debut The Naked and the Dead, one of the canonical World War II novels. Salinger landed at Utah Beach in Normandy on D-Day, survived the Battle of Hürtgen Forest, and in April 1945 entered one of the newly liberated concentration camps at Dachau. The psychic toll of these experiences led to his being hospitalized for "combat stress reaction" not long after the war with Germany ended.
Library of America also has a personal connection to the film in Elihu Rose, an LOA Trustee who provides on-camera commentary.
"I was a little kid during the war, so the interview was a walk down memory lane," Rose told us. "It not only brought back visions of those years, but it sent me back to my albums to retrieve old photographs, letters, and even some home movies, several of which appear in the documentary.
"Those were exciting times, not only for me, of course, but for the entire country, and it was a happy experience to re-live them, if only for a few moments."

Video: Trailer for GI Jews: Jewish Americans in World War II (2:16)
GI Jews airs on PBS (check local listings) at 10:00 pm on April 11, 2018, and will be available to stream on pbs.org/gijews and on PBS apps beginning April 12. A DVD of the film is also available.