James Thurber (1894–1961)
From James Thurber: Writings & Drawings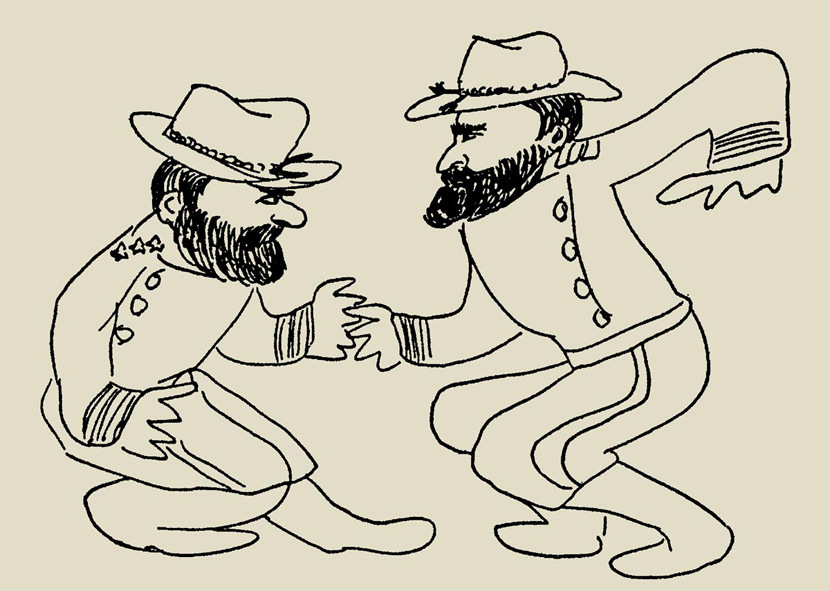 In the nine decades since it first appeared in The New Yorker, James Thurber's alternative-history parody "If Grant Had Been Drinking at Appomattox" has endured as one of his most famous sketches.
Just four pages in length, this over-the-top farce has been resuscitated in many forms. Included in the 1935 collection The Middle-Aged Man on the Flying Trapeze, it has been reprinted in numerous humor and "tall tale" anthologies. It was also one of the most popular skits—perhaps the most popular—in the 1960 hit Broadway revue, A Thurber Carnival, now a staple of regional theaters.
This year "If Grant Had Been Drinking at Appomattox" has been given yet another life. Actor Bill Murray, cellist Jan Vogler, violinist Mira Wang, and pianist Vanessa Perez have included the piece in their recently released New Worlds album, which blends classical music, American standards, and literary readings, and the troupe is on a North American tour to promote the album's release. We present the original text of Thurber's parody as our Story of the Week selection, with an introduction explaining how Winston Churchill, of all people, played a pivotal role in inspiring Thurber to write it.
Read "If Grant Had Been Drinking at Appomattox" by James Thurber