Library of America's thirty-fifth anniversary celebrations continue this Sunday, September 17, with our first-ever appearance at the Brooklyn Book Festival. Held in downtown Brooklyn every fall, the Book Festival is the largest free literary event in New York City and an increasingly prominent part of Brooklyn's cultural ecosystem.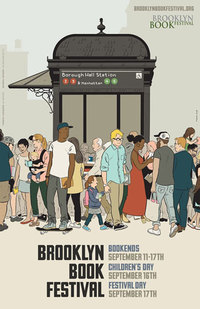 On Sunday we'll be showcasing our irresistible publications in Booth 233, near the Festival's Center Stage in Borough Hall Square, from 10:00 am to 6:00 pm. Gifts are available to the first 100 festival attendees who sign up for LOA's mailing list, and we'll also hold free raffles to win one of four exceptional Library of America book sets:
The Classic Literature set
Peter Taylor: The Collected Stories (two–volume boxed set)
Edith Wharton: Novels
Zora Neale Hurston: Novels & Stories
Shakespeare in America
Edgar Allan Poe: Selected Tales
The Classic Poetry set
The Collected Poems of W. S. Merwin (two–volume boxed set)
John Ashbery: Collected Poems 1991–2000
Elizabeth Bishop: Poems, Prose & Letters
Poems from the Women's Movement
Walt Whitman: Leaves of Grass
The History & Culture set
The Debate on the Constitution (two–volume boxed set)
Art in America: 1945–1970
James Baldwin: Collected Essays
The Essential Hamilton
Abraham Lincoln: Selected Speeches & Writings
The Science Fiction & Pulp Classics set
Ursula K. Le Guin: The Hainish Novels & Stories (two–volume boxed set)
Philip K. Dick: Four Novels of the 1960s
Dashiell Hammett: Complete Novels
Edgar Rice Burroughs, Tarzan of the Apes
Edgar Rice Burroughs, A Princess of Mars
Multiple raffle winners will be announced at 12:00, 3:00, and 6:00 pm.
In addition, Jonathan Lethem, LOA Advisor and co-editor of our new anthology Shake It Up: Great American Writing on Rock and Pop from Elvis to Jay Z, will sign copies of Shake It Up at our booth from 1:30 to 2:00 pm. (Copies of Shake It Up will be on sale at our booth for the signing.) We'll also offer a Brooklyn Book Festival coupon code that attendees can use to receive a special discount at the LOA Web Store through the end of September.
Visit the festival website for a complete schedule of 2017 Brooklyn Book Festival programs, participating writers and publishers, and latest updates. We hope to see you there!