*Loren Eiseley (1907–1977)
From _Loren Eiseley: Collected Essays on Evolution, Nature, and the Cosmos_*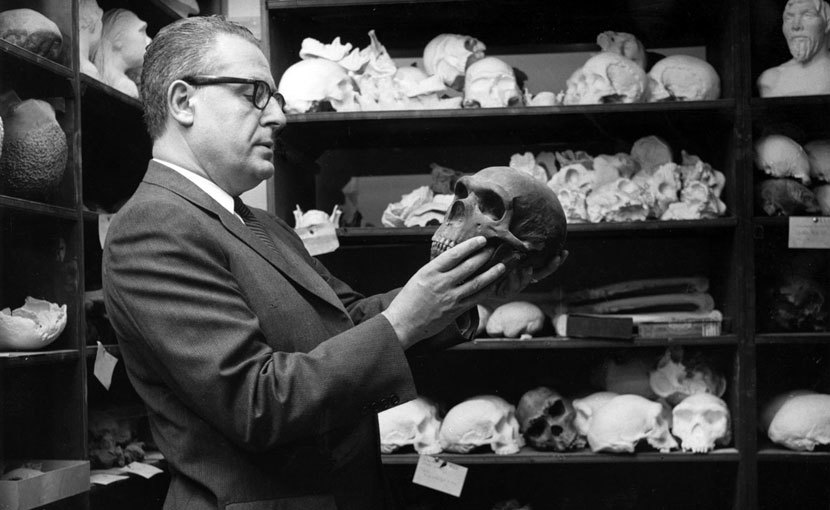 Weekend reading: Loren Eiseley sees dead people.
"My wife's friends are constantly being startled by the skulls which glare down at them from the top of one of my book cases!" An anthropologist, archaeologist, and self-described "bone hunter," Loren Eiseley accumulated quite a collection of human remains over the course of his career—some of them provided by complete strangers who just wanted them out of the house. How they ended up in their homes is the subject of his essay, "Barbed Wire and Brown Skulls," which we present here, in full, as our Story of the Week selection.
Eiseley often moaned about his lack of luck finding the prehistoric fossil that would make his name in the field, but he did discover something quite remarkable: an idiosyncratic and inimitable style of writing. "There remains something sui generis about Eiseley," says William Cronon. "Because he writes so frequently of wondrous encounters that surface at the most ordinary and unexpected moments, you'd think he'd have a fair number of imitators. But what he does is a lot harder than it looks." Or as Eiseley himself contends, "Mere words can sometimes be more penetrating probes into the nature of the universe than any instrument wielded in a laboratory."