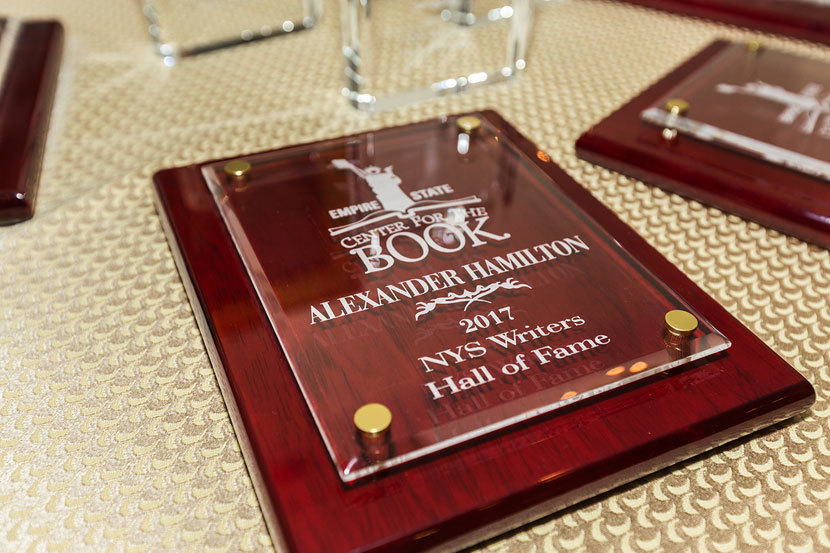 Two authors in the Library of America series added to their already considerable renown recently when Alexander Hamilton and Frederick Law Olmsted were inducted into the New York State Writers Hall of Fame in a gala event at the Princeton Club of New York on June 5. A pair of speakers at the ceremony further cemented the Library of America connection—and a surprise cameo from the world of popular culture injected some show-biz luster into the proceedings.
The Writers Hall of Fame is an initiative of the Empire State Center for the Book, New York's affiliate of the Library of Congress Center for the Book. The Center established the Hall of Fame in 2010 in order to recognize New York–based poets, novelists, journalists, and historians who have left their mark on American culture.
Three living and four deceased authors were inducted into the Hall of Fame in 2017. In addition to Hamilton and Olmsted, the deceased group included Christopher Morley and Walter Dean Myers; the living writers were Alexander Hamilton's biographer Ron Chernow, William Kennedy, and Lillian Ross.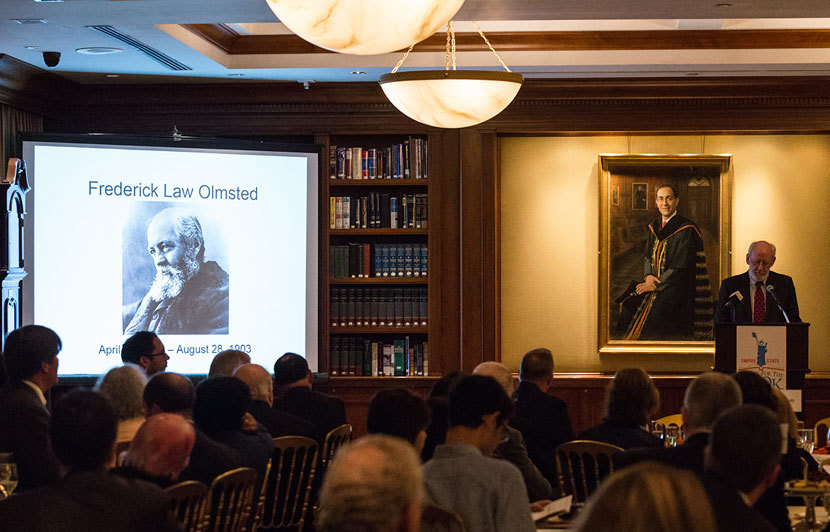 Speakers at the induction ceremony testified to the honorees' literary stature. Handling the duties for Frederick Law Olmsted was Charles E. Beveridge, the pre-eminent Olmsted authority who edited LOA's 2015 volume Frederick Law Olmsted: Writings on Landscape, Culture, and Society. Beveridge explained that though Olmsted is not commonly thought of as a writer, he first made a name for himself as a journalist in the 1850s, filing dispatches from the slaveholding states for the recently founded New York Times before he published "four volumes that were the most extensive description and analysis of American slavery that appeared during the period of intense controversy prior to the Civil War." Moreover, as a young editor at the New York–based Putnam's Monthly Magazine in the same decade, Olmsted interacted with leading literary figures like Emerson and Harriet Beecher Stowe and even solicited manuscripts from Melville and Thoreau.
As for the profession that eventually made Olmsted famous, Beveridge continued, "His writings comprise the most extensive and impassioned description by any person of the purpose and process of the art of landscape design."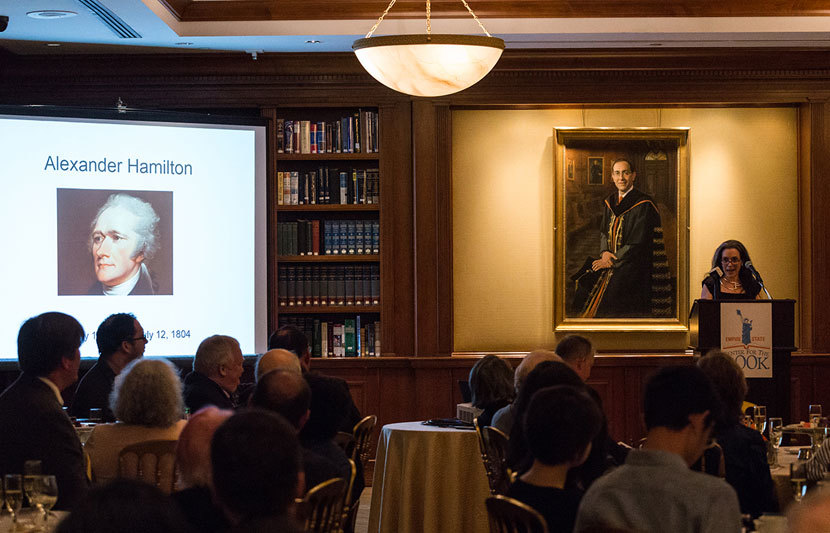 Stirring advocacy for Alexander Hamilton's literary gifts came from Yale University historian Joanne Freeman, who edited both the Library of America series edition of Hamilton's writings and its brand-new collection The Essential Hamilton. "He was a remarkably powerful and fluid writer at a time when powerful and fluid writers were needed—and had an impact," Freeman told the audience. "He wrote like he politicked—boldly, aggressively, with a powerful punch. It's no accident that the same word wonderfully characterizes Hamilton's policies, politics, and writings: energy."
A special guest appearance further enlivened this year's induction ceremony. Speaking by video from London, where he is currently shooting a film, Lin-Manuel Miranda paid tribute to both Ron Chernow and the Founder whom they both took as a subject. As is well-known by now, Chernow's 2004 biography of Hamilton provided the inspiration for Miranda's hit musical; as he says in the video below, "It was Ron's depiction of Alexander Hamilton's relentlessness that made me fall in love with him as a character—and it was Alexander Hamilton's relentlessness as a writer that made me realize this [the musical project] was worth pursuing." Chernow, Miranda concluded, "makes history come alive for me as a reader."
Watch Lin-Manuel Miranda's tribute to Ron Chernow and Alexander Hamilton: