Mary McCarthy (1912–1989)
From Mary McCarthy: Novels & Stories 1942–1963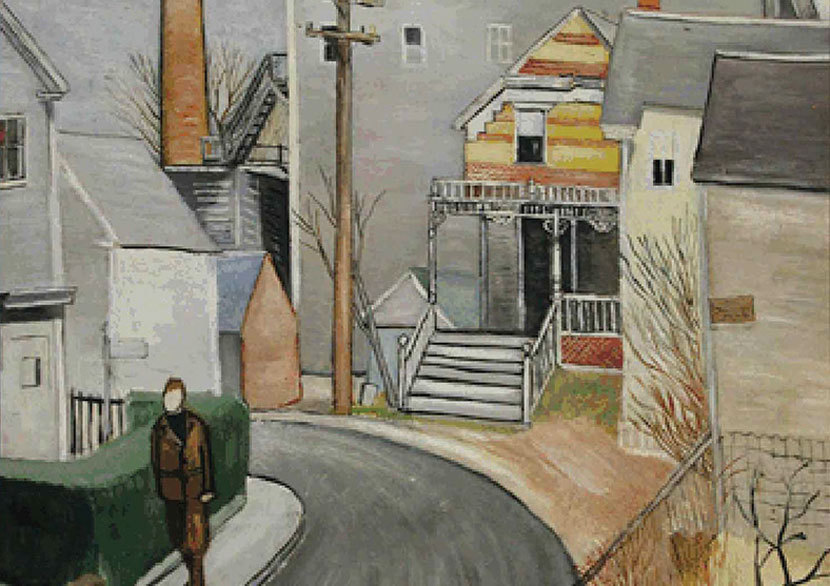 Detail from Tom Hackett Walking Along Commercial Street Past the Delight, Delight, Delight House, undated, oil on board by American artist Mary Hackett (1906–1989). Visit the Provincetown History Preservation Project site to see the full painting. The Delight House (mentioned in McCarthy's story) was in front of the Atlantic Coast Fisheries Cold Storage Plant in Provincetown.
Today is the publication date for the Library of America edition of the complete fiction of Mary McCarthy, including her groundbreaking debut, The Company She Keeps, and the famous (or, perhaps, infamous) best seller from 1963, The Group.
Also in the two-volume set are four works of fiction that she never included in any of her books; they are collected in this new edition for the first time. One of them, "The Company Is Not Responsible," is an early story and the first of several by McCarthy to appear in The New Yorker. It describes a group of strangers during wartime who unexpectedly bond together on the bus to Provincetown; as her biographer Frances Kiernan notes, the story is "mild and even heartwarming and nothing like anything she had ever written." We present it here as our Story of the Week selection.