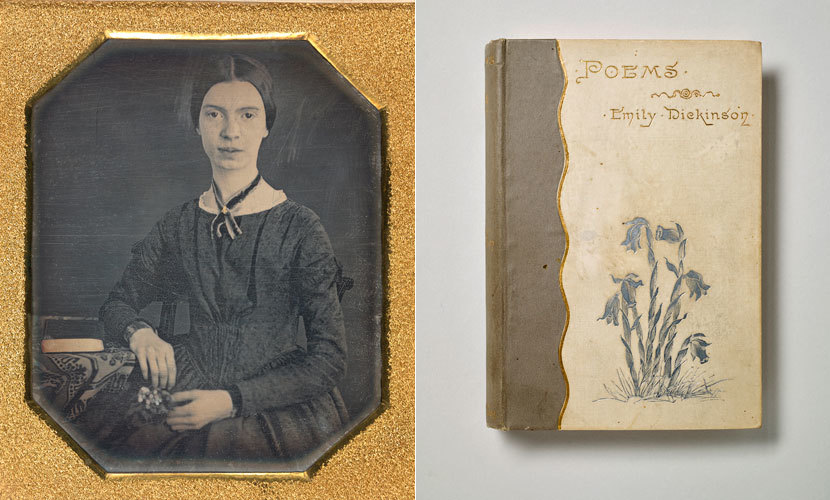 Library of America encourages poetry lovers to visit New York City with all possible speed for the Morgan Library & Museum's new exhibition I'm Nobody! Who are you? The Life and Poetry of Emily Dickinson. Billed as "the most ambitious exhibition on Dickinson to date," it both humanizes one of the most enigmatic figures in all of American literature and provides a remarkable close-up view of her creative process.
Drawing on the Archives & Special Collections at Amherst College, I'm Nobody! Who are you? brings together original manuscripts and letters with a wealth of visual material that vividly conveys the small-town, mid-nineteenth-century New England milieu that formed Dickinson.
Viewers can contemplate the poet's compact, bricklike personal Bible, with her name stamped on the cover in gold, as well as a reproduction of the floral-print wallpaper that graced the bedroom in which she did much of her reading and writing. Tiny, vivid daguerreotypes make an impact that belies their size: not only the iconic 1847 portrait of the teenaged Dickinson, but the 1859 image—which may be the adult Dickinson with Kate Scott Turner—that has prompted so much speculation since it was discovered in western Massachusetts in the mid-1990s. Perhaps most poignantly, a lock of hair (corroborated by a portrait of nine-year-old Emily and her siblings) establishes one concrete detail: Emily Dickinson was a redhead.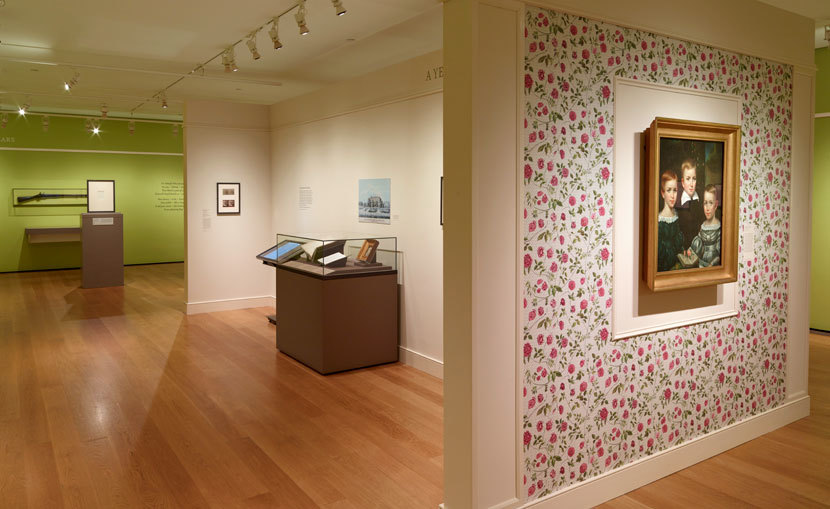 Other artifacts on display, like a contemporary edition of Jane Eyre by Charlotte Brontë and Dickinson's own copy of an Elizabeth Barrett Browning volume (with her notations preserved in the margins), suggest a woman actively engaged with cultural and intellectual currents of her time, rather than the isolated visionary who long dominated popular imagination.
Similarly, though Amherst was obviously far from the front lines of the Civil War, the exhibition demonstrates how thoroughly the conflict roiled the community and affected the lives of even the Dickinson household. The war years coincided with Dickinson's most prolific phase; while they ponder that overlap, visitors to the Morgan may be tempted to tease out connections between the Springfield musket on display and one of her masterworks from the period, "My life had stood—a loaded Gun—" (c. 1862–1864).
The heart of I'm Nobody! Who are you? is a trove of Dickinson's original manuscripts. These include samples of the famous hand-sewn "fascicles," or manuscript booklets, that were found among her belongings after her death, along with literally back-of-the-envelope jottings and other scraps. To see the poetry in its original state—with its sometimes indecipherable handwriting, defiantly unorthodox punctuation, and variant word choices in the margins—is to come away with renewed respect for the succeeding generations of editors who have labored to present Dickinson's writing in something close to the form she intended.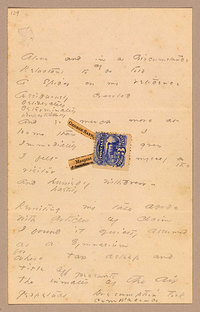 That form, as recent editions of Dickinson like The Gorgeous Nothings and Envelope Poems have testified, was at times even more innovative than is commonly realized. In a few instances at the Morgan exhibition, the poet seems to be striving toward a hybrid of image and text that anticipates much later schools of visual art. "The way Hope builds his house" (c. 1879) is in fact inscribed on a piece of paper carefully shaped to look like a house, and "Alone and in a circumstance" (c. 1870) includes two names clipped from the pages of Harper's Monthly and a postage stamp affixed, collage-style, right into the poem. (Grounds for speculation: one of the cut-out names is "George Sand," a nineteenth-century woman writer who worked in anything but obscurity, and the other is the title of Sand's novel Mauprat.)
I'm Nobody! Who are you? meticulously recreates the personal and historical context in which Dickinson lived and wrote. At the same time, it makes her poetry physically present, available for close scrutiny, inside that context. By doing both things at once, the exhibition furthers our understanding of her as a human being even as it deepens our sense of her radical originality.
I'm Nobody! Who are you? The Life and Poetry of Emily Dickinson is on view at the Morgan Library & Museum in New York City through May 21, 2017. Visit themorgan.org for complete exhibition details.
The Library of America volume American Poetry: The Nineteenth Century, Volume Two includes a substantial selection of Dickinson's poems. In addition, her fruitcake (or black cake) recipe is included in Library of America's American Food Writing.