Edith Wharton (1862–1937)
From Edith Wharton: Collected Stories 1891–1910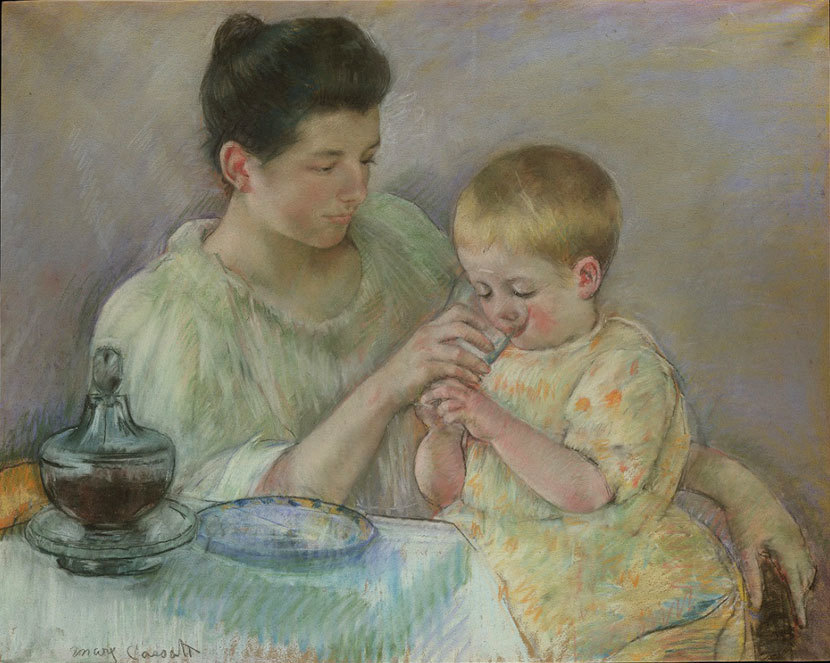 Mother Feeding Child, pastel on wove paper (mounted on canvas) by American artist Mary Cassatt (1844–1926). The painting was completed in 1898, the same year as Wharton's story. Cassatt knew Wharton but was not fond of her fiction; she wrote to a friend that she preferred the expansive social themes and naturalism of Émile Zola over the psychological character studies of Paul Bourget, a friend of Wharton's and an early influence. Image courtesy of The Metropolitan Museum of Art.
January 24 marked the 155th anniversary of the birth of Edith Wharton, and we celebrate the occasion by presenting one of her most well-known stories.
"The Pelican" wasn't her first published work—not by several years, in fact—but it was the earliest of her magazine stories Wharton felt worthy of inclusion in The Greater Inclination, a debut collection greeted by near-universal praise. "In the way of fiction we have seen nothing this year that has impressed us so much as Mrs. Wharton's book," exclaimed The Bookman (an influential literary magazine), which singled out "The Pelican" as the collection's "most amusing piece . . . a perfectly delicious study of the typical 'lady lecturer' [that is] full of pure delight from beginning to end." The book sold more than three thousand copies—remarkable at the time for a story collection by an unknown author.
You can read the story in full at our Story of the Week site—and, in the introduction, we explain why the story, which contains not a single mention of a bird, was called "The Pelican."