Edgar Allan Poe (1809–1849)
From Edgar Allan Poe: Poetry & Tales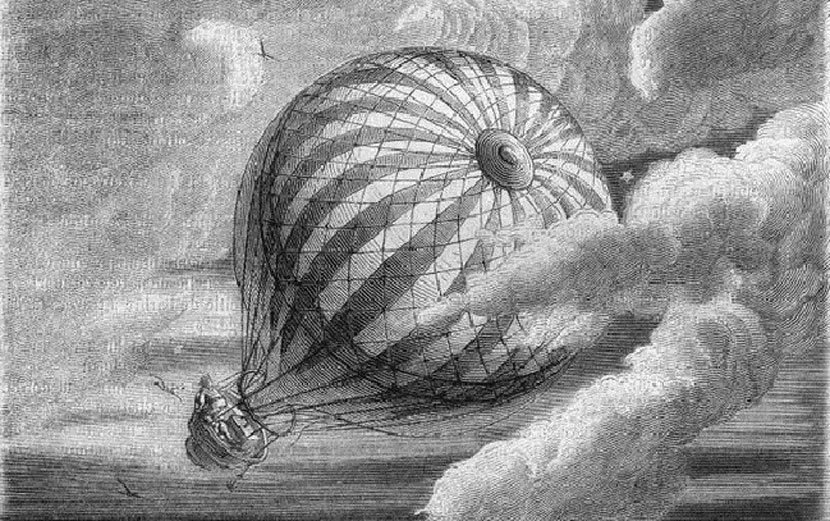 Detail of drawing by Jean-Édouard Dargent (better known as Yan' Dargent) to illustrate a section about Edgar Allan Poe's "The Unparalleled Adventure of One Hans Pfaall" in Jules Verne's Edgar Poe et ses œuvres (1864). A hot-air balloon figures prominently in "The Angel of the Odd," published months after Poe's infamous Balloon Hoax.
Today (January 19) is the 208th anniversary of Edgar Allan Poe's birth and—in what has become an annual tradition—we present one of his many tales as our Story of the Week selection.
"The Angel of the Odd" is certainly odd, even for Poe. It features a sequence of over-the-top pratfalls and absurd catastrophes caused by a fire-starting rat, a ladder-toppling pig, a pants-snatching crow, a drunken narrator who hangs for dear life from a hot-air balloon, and a spiritual being made of kegs, casks, a funnel, and wine bottles. And, in an oddly relevant twist, what sets off the series of unfortunate events is a rationalist outraged by gullible newspaper readers too easily fooled by fake news.
A number of critics have compared the story's zaniness to the slapstick comedies of the silent film era, and "The Angel of the Odd" shows a side of Poe that might surprise many readers.