By Gene Seymour
Director Stanley Nelson's conscientious attention to detail and nuance adds substance, perspective, and vitality to this moving documentary about a pivotal 1961 episode in the civil rights movement.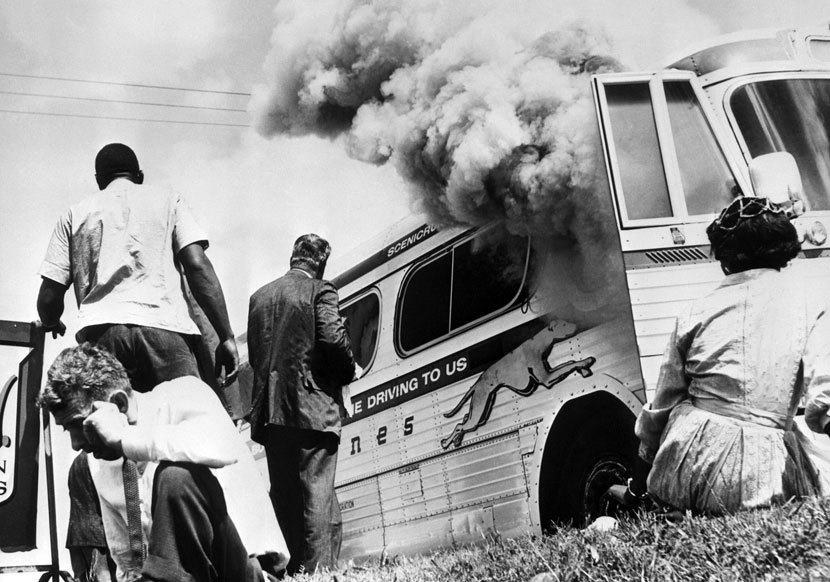 Blink and you'll miss him. But roughly an hour and twenty minutes into Stanley Nelson's Freedom Riders, the 2010 documentary about the bloody nonviolent campaign in the spring of 1961 to end segregated bus travel in the American South, you can see a rail-thin, circumspect-looking white man carrying a notebook in the deep dark of an Alabama night as National Guard troops move towards the First Baptist Church in Montgomery to protect those inside. There are few newspapermen I recognize in a glance, especially through grainy black-and-white archival footage a half-century old. But I'd know Murray Kempton—pipe, horn rims, and all—as immediately, and as fondly, as I'd recognize his stately, epigrammatic prose.
In "Tear Gas and Hymns," one of his contributions to the first volume of Reporting Civil Rights, American Journalism 1941–1963, Kempton chronicles the long night of May 21–22, 1961 at the predominantly African American church whose parishioners—men, women, and children alike—had turned out for a rally to support, as Kempton described them, "twelve of the Nashville students whose test of segregated bus facilities had ignited their city the day before."
While Martin Luther King Jr., Ralph Abernathy, John Lewis, James Farmer, Diane Nash, Fred Shuttlesworth, and other movement leaders rallied inside the church several thousand whites outside threatened harm to both the building and its occupants. As the white mob milled and loomed, Kempton wrote, "[president] John F. Kennedy's United States marshals, looking as if their hands were already blistering from the tense and unfamiliar grip of the billy, seemed a home guard of family men suddenly called up for an invasion."
Nelson's documentary, which along with The Murder of Emmett Till (2003), Freedom Summer (2014), and The Black Panthers: Vanguard of the Revolution (2015), comprise this filmmaker's epic history of an epochal era, tells the same story with footage from without and within the church. The insufficient lighting of King and other speakers from the altar create shadows more reminiscent of a 1940s Val Lewton-produced horror show than a real-life socio-political thriller. Within this footage, Nelson intersperses present-day interviews with those who remember their eyes stinging from the tear gas that wafted from the streets, and with others such as then-Alabama governor John Patterson, whose offices weren't far from First Baptist (now a national historic landmark), and Kennedy aide John Seigenthaler, who the day before that marathon siege had been hit with a lead pipe by racist thugs who'd attacked both black and white Freedom Riders.
Today, too much history of the civil rights movement has been compacted into hagiographic sound bites, most of them extracted from King's "I Have a Dream" speech at the March on Washington two years after the Freedom Rides. Nelson's conscientious attention to detail and nuance add substance, perspective, and vitality to such history, especially in the recollections of the dry-mouth terror and gut-wrenching brutality sustained by the riders themselves.
The all-too-real horror of a Ku Klux Klan mob's fiery May 14 Mother's Day assault on a Greyhound bus in Anniston, Alabama, counts as one of those stories that couldn't be made up—and likely couldn't be done any more justice by a Hollywood feature. One of those Nelson interviewed for Freedom Riders is James Zwerg, a Freedom Rider who in 1961 was a Wisconsin-born white exchange student at the historically black Fisk University in Tennessee. Zwerg was beaten so severely at the May 20 riot at the Montgomery bus station that it's a gratifying surprise to see him still alive and well. His twenty-year-old self, interviewed as he lay on a hospital bed with a battered face and cracked teeth, said he was still willing to carry on with the campaign.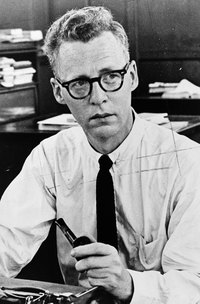 Reading Kempton's first-hand, on-scene account of that Montgomery church meeting in May restores freshness and radiance to one's perception of the event; that's what happens when a journalist applies the full measure of a refined, erudite, compassionate sensibility to the imperatives of immediacy. Kempton gets it all down: The tear gas fumes seeping through the church windows; the hymn-singing waxing and waning in enthusiasm throughout the night as the siege dragged on; a perspiring King in shirtsleeves reporting to his increasingly restive, but persevering audience about Attorney General Robert Kennedy's progress in negotiating for assurances that those leaving the church for home would be protected by federal or state troops.
When comparing Kempton's and Nelson's accounts of events at First Baptist, you're struck by how much information they share. For a "rough draft of history" (to borrow a definition of journalism credited to the late Washington Post publisher Philip Graham), Kempton's seems close to definitive and the documentary doesn't add details so much as augment them with those grainy, haunting visual records. And there isn't a piece of film in that sequence that matches the concise eloquence of a scene captured by Kempton as the Alabama National Guard began to clear the streets of peril and churchgoers were told it was okay to finally, and safely, go home:
"And everyone in the room stood up, and the mother in front awoke her child so he could stand up to and thank a white public servant who had done his duty."
"Tear Gas and Hymns" typified Kempton's approach to events, large and small. In a 1982 profile for Esquire magazine, David Owen described Kempton as a "dramatist at heart" who "plies his trade whenever circumstances have contrived to build him a stage." He preferred painting detailed miniature landscapes to compiling direct quotes and squeezing deep-background filler into one of his columns for The New York Post or, later, for Newsday. "I can't go out and interview little old ladies because that's an invasion of privacy," he told Owen. "So what I like to cover is a sort of set scene. And since the papers don't cover these things to a very great extent, I have a kind of monopoly."
Kempton's voice is among 150 assembled for both volumes of Reporting Civil Rights. Some articles convey events with meticulous attention to provable facts and resonate with conviction you can feel to this date, whether it's Ralph Ellison's eyewitness account of the August 1943 Harlem race riots or Anthony Lewis's coverage for The New York Times of President Eisenhower's somewhat tardy dispatch of federal troops in September 1957 to help integrate Central High School in Little Rock, Arkansas. James Baldwin, Pauli Murray, Ted Poston, Ralph McGill, Claude Sitton, David Halberstam, Lillian Smith, Robert Penn Warren are among the many voices with different attitudes and differing perspectives retaining the urgency of the moments in which they were first expressed.
Still, there are many things rough drafts of history don't, or can't, disclose. (History of any kind, as novelist Don DeLillo suggests in his speculative Kennedy assassination novel, Libra, "is the sum total of the things they aren't telling us.") And among the things you find out in Nelson's Freedom Riders that aren't included in Reporting Civil Rights is the degree to which even civil rights activists united in aspirations and tactics disagreed with each other during the Freedom Ride campaign. It might come as a surprise for those who today acknowledge Martin Luther King's heroism and preeminence in the civil rights movement that the words of caution and restraint he counseled for younger participants in the Freedom Rides caused some increasingly more militant activists to question and even scorn King. Some referred to him mockingly as "De Lawd" up to his 1968 assassination.
And to match the energy generated by the you-are-there accounts in Reporting Civil Rights, there is the comparable impact in Nelson's film of hearing directly from those who were there. The face of Diane Nash, a founding member of the Student Nonviolent Coordinating Committee who mobilized student riders, glows with as much resolve in 2010 as it does in still photographs of her taken in 1961. Even with a half-century distance between then and now, one shares Seigenthaler's shock-and-awe when he recounts the phone call he placed at Robert Kennedy's request to convince Nash not to go to Alabama. He still looks astonished when recalling how Nash responded by calmly informing him that she and her young colleagues had signed their last wills and testaments before boarding the buses.
"She in a very quiet and strong way gave me a lecture," Seigenthaler says. The film teaches—and touches—just as profoundly.

Watch: Official trailer for Freedom Riders (2:16)*
Freedom Riders (2010) Written, produced, and directed by Stanley Nelson. Based in part on the book Freedom Riders by Raymond Arsenault. Edited by Lewis Erskine and Aljernon Tunsil. Includes interviews with Arsenault, Diane Nash, John Lewis, Julian Bond, John Patterson, John Seigenthaler, and many others.
Buy the Blu-ray • Buy the DVD • Watch on iTunes • Watch on PBS.org
---
Gene Seymour's previous contribution to The Moviegoer concerned itself with 1957's The Incredible Shrinking Man. He has contributed articles and reviews to CNN.com, The Nation, BookForum, The Baffler, and his own site, geneseymour.com.
---
The Moviegoer, a biweekly feature from Library of America, showcases leading writers revisiting memorable films to watch or watch again, all inspired by classic works of American literature.
---