Launched this fall, with funding from the National Endowment for the Humanities, Library of America's World War I and America program is a two-year initiative that aims, in part, to bring U.S. military veterans and their families into a public discussion of cultural and historical issues raised by World War I and how those issues are still relevant today.
To help foster that conversation, we asked several veteran-writers and recognized authorities in veterans' issues to recommend a list of what they considered to be the most significant writing by American veterans.
The resulting list appears below: spanning multiple genres, it traces a century of conflict ranging from World Wars I and II through Korea and Vietnam to Afghanistan and Iraq. Men and women, draftees and volunteers, and officers and enlisted personnel are all represented, and acknowledged literary masterworks like A Farewell to Arms, Catch-22, and Slaughterhouse-Five appear alongside the rawest personal memoirs from America's War on Terror.
Library of America's recommenders were:
• Maurice Decaul, poet, essayist, and playwright; former U.S. Marine;
• Kara Krause, founder/Director, Voices from War;
• Peter Molin, professor, Rutgers University; former U.S. Army infantry officer;
• Warrior Writers, the veteran-focused nonprofit arts organization in Philadelphia.
Their recommendations appear below, organized by genre and listed chronologically within each genre.
Visit our World War I and America website, and watch this space in the weeks ahead, for more of the centennial dialogue between contemporary veterans and writing by the World War I generation.
---
FICTION • MEMOIR • POETRY • OTHER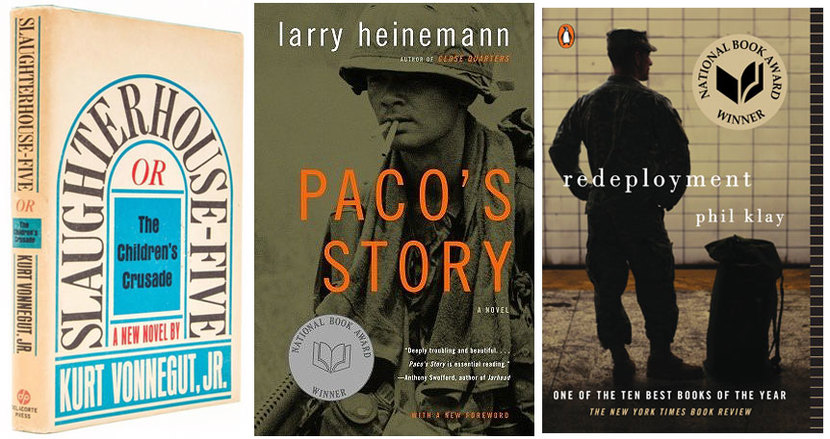 World War I
John Dos Passos, Three Soldiers
Ernest Hemingway, A Farewell to Arms
Note: Dos Passos and Hemingway were both volunteer ambulance drivers, Dos Passos with the American Volunteer Motor Ambulance Corps in France and Hemingway with the American Red Cross in Italy.
World War II
Joseph Heller, Catch-22
James Jones, The Thin Red Line
Kurt Vonnegut, Slaughterhouse-Five
Korea
Richard Hooker, MASH: A Novel About Three Army Doctors
James Salter, The Hunters
Vietnam
Larry Heinemann, Paco's Story
Karl Marlantes, Matterhorn
Tim O'Brien, The Things They Carried
Iraq and Afghanistan
David Abrams, Fobbit
Elliot Ackerman, Green on Blue
Matt Gallagher, Youngblood
Matt Gallagher and Roy Scranton, eds., Fire and Forget: Short Stories from the Long War
Matthew Hefti, A Hard and Heavy Thing
Phil Klay, Redeployment
Atticus Lish, Preparation for the Next Life
Luke Mogelson, These Heroic, Happy Dead: Stories
Kevin Powers, The Yellow Birds
Roy Scranton, War Porn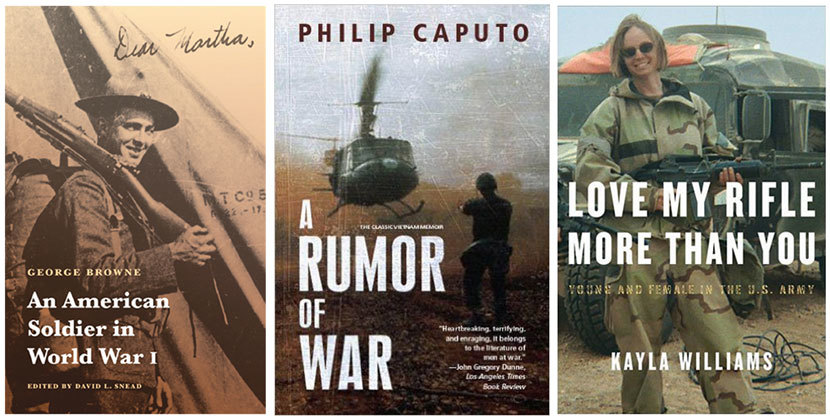 World War I
George Browne, An American Soldier in World War I
Arthur Guy Empey, Battle Cry: The Combat Memoir of an American Infantryman in World War I (originally published as Over the Top)
World War II
J. Glenn Gray, The Warriors: Reflections on Men in Battle
Charles B. MacDonald, Company Commander
Mary Lee Settle, All the Brave Promises: Memories of Aircraft Woman Second Class 2146391
E. B. Sledge, With the Old Breed: At Peleliu and Okinawa
George Webster, The Savage Sky: Life and Death on a Bomber over Germany in 1944
Korea
James Brady, The Coldest War
Vietnam
Phil Caputo, A Rumor of War
Tracy Kidder, My Detachment
Karl Marlantes, What It Is Like to Go to War
Colin Powell, My American Journey
Lynda Van Devanter, Home Before Morning: The Story of an Army Nurse in Vietnam
Lynda Van Devanter and Joan Furey, Visions of War, Dreams of Peace: Writings of Women in the Vietnam War
Bruce Weigl, The Circle of Hanh
The Gulf War
Anthony Swofford, Jarhead
Iraq and Afghanistan
Bellevue Literary Review, Vol. 2, No. 15, Fall 2015, "Embattled: The Ramifications of War" (theme issue)
Benjamin Busch, Dust to Dust: A Memoir
Colby Buzzell, My War: Killing Time in Iraq
Brian Castner, The Long Walk: A Story of War and the Life That Follows
David Chrisinger, ed., See Me for Who I Am: Student Veterans' Stories of War and Coming Home
Eric Fair, Consequence: A Memoir
Siobhan Fallon, You Know When the Men Are Gone
Heidi Squier Kraft, Rule Number Two: Lessons I Learned in a Combat Hospital
Chris Kyle, American Sniper: The Autobiography of the Most Lethal Sniper in U.S. Military History
Camilo Mejia, Road from ar Ramadi: The Private Rebellion of Staff Sergeant Mejia
Brian Turner, My Life as a Foreign Country
Kayla Williams, Love My Rifle More Than You and Plenty of Time When We Get Home
James Yee, For God and Country: Faith and Patriotism Under Fire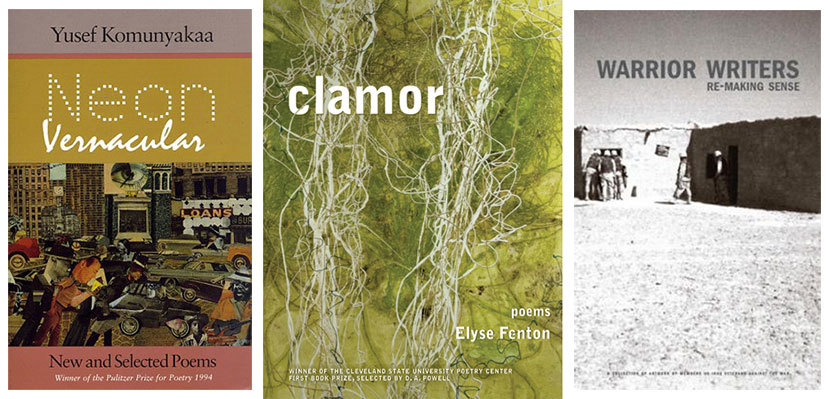 Vietnam
Doug Anderson, Horse Medicine
Yusef Komunyakaa, Neon Vernacular
Bruce Weigl, Song of Napalm
Afghanistan and Iraq
Elyse Fenton, Clamor
Hugh Martin, The Stick Soldiers
Brian Turner, Phantom Noise and Here, Bullet
Warrior Writers, Move, Shoot and Communicate; Re-Making Sense; After Action Review; Fourth Anthology (anthologies)
Vijay Iyer & Mike Ladd, Holding It Down: The Veterans' Dreams Project (music CD), featuring Maurice Decaul and Lynn Hill
---