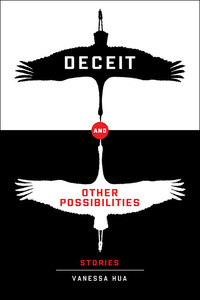 Our series of guest posts by contemporary American writers discussing their influences continues today with a post by Vanessa Hua, whose debut short story collection, Deceit and Other Possibilities, has just been released by Willow Books.
Hua has playfully summarized Deceit to Flavorwire as "model minorities behaving badly"; its stories focus on members of various U.S. immigrant communities as they contend, not always successfully or admirably, with major life choices. Early admirer Gary Shteyngart calls Deceit "fast-paced, dazzling, smart, and fun" for its depictions of "the insanities and heartbreaks on both sides of the Pacific."
Below, Hua recounts the early inspiration she found in two classic American authors.
---
My parents don't have any mementos from their childhood. No toys, no yearbooks. Born in China, they grew up during the war against Japan and, later on, the Communists. Their families fled to Taiwan and in the early 1960s my parents were among the wave of engineering and science students who arrived in this country on graduate school fellowships. My mother landed in Chicago, my father in Iowa. They brought a few clothes but no keepsakes, nothing that offered clues to their lives before coming to America.
I knew that, and yet I still believed the copy of Little Women I found on the bookshelf—with the yellowing pages, tattered green cover, and musty smell—had to have been my mother's, something that she'd read in college, even though she was a scientist and not an English major, even though I'd never once seen her read a work of fiction.
Somehow, the book showed up in our house, and I invented its past, a past that I wanted to believe in. As the daughter of immigrants, I often pieced together explanations my parents couldn't—or wouldn't—provide. Through observation, through imagination and through books, I filled in the gaps of lost or hidden history.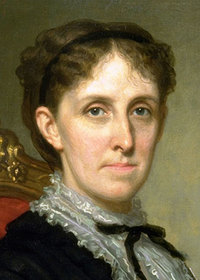 From childhood through high school, I read Little Women at least twice a year, inspired by Jo March who wrote her own fate by selling her stories. I read Laura Ingalls Wilder's Little House books almost as avidly. Laura Ingalls (Wilder's alter ego in the series) also excelled as a writer, as we see in the chapter where she wins the teacher's praise when she writes an essay about ambition. Though we never learn in the series how and when she wrote her books, her name on the cover was proof enough that a feisty girl like her—like me—could get published someday.
In them, I found a mirror, even though we didn't share the same ethnicity or geography or era.
We were all strivers: my striving that of an immigrant family's, Jo's born out of fallen fortunes, and Laura's from pioneer necessity. We were outsiders, too: my family was among a handful of Chinese Americans in my suburban hometown, Jo was a whistling tomboy, and Laura chafed at comparisons to her obedient, golden-haired older sister.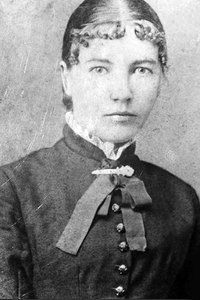 Many characters in my short story collection are strivers, too, their ambitions leading them into calamities of their own making. After re-reading Little Women recently, I found it more old-fashioned than I remembered—at times sanctimonious. I've also come to understand that the Little House novels emerged from an often-tortured collaboration between Laura Ingalls Wilder and her daughter, Rose Wilder Lane, and that the books skipped over the more painful aspects of the family's history.
That doesn't change the impact those books had upon my development, how they made me feel more at home because I recognized characters who shared my dreams. What I remembered, what I held onto, is what I needed then to make my way in the world.
The cover has fallen off my copy of Little Women, and the pages are even more yellowed, the color of a pirate's treasure map. With each generation, my family's roots deepen in this country. Like me, my five-year-old twins love books, pulling the ones that intrigue them off the shelf and demanding we read to them.
They're curious about what I did at their age. "Mama, what toys did you play with, when you were a girl? What books did you read, when you were a girl?" Soon enough, they'll discover Little Women—and the book will become an heirloom at last.
---
Vanessa Hua is a columnist for the San Francisco Chronicle and the recipient of a 2015 Rona Jaffe Foundation Writers' Award and a Steinbeck Fellowship in Creative Writing from San José State University. Her journalism and fiction have appeared in the New York Times, FRONTLINE/World, The Atlantic, ZYZZYVA, Guernica, and other outlets. Hua's first novel, A River of Stars, is forthcoming from Ballantine Books. She lives in the San Francisco Bay Area with her husband and twins.