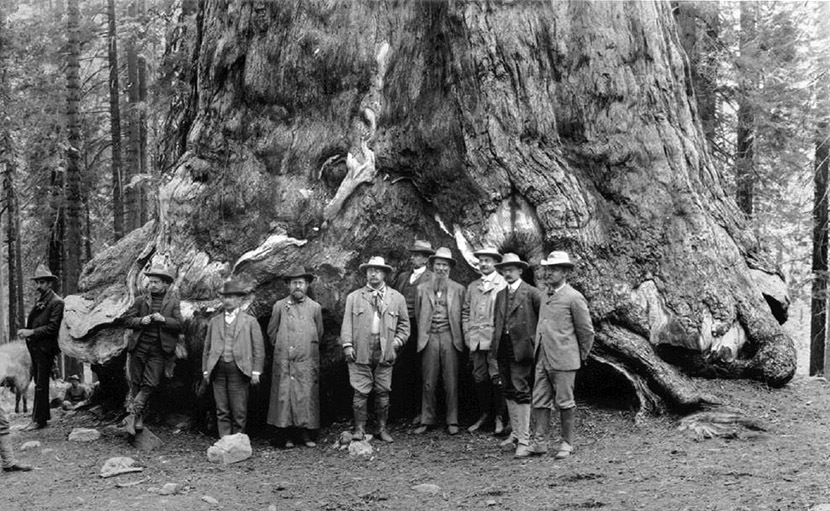 Today (August 25) marks the National Park Service's centennial. During the decades prior to its founding Congress had designated a number of national parks and monuments, but had not yet established an authority to oversee their protection and operation. Today the agency manages 59 national parks, 82 national monuments, and several hundred other preserves, recreation areas, and historic sites.
Many people were responsible for the creation of the National Park Service: Theodore Roosevelt, U.S. Forest Service chief Gifford Pinchot, the industrialist Stephen Mather—and especially John Muir, who died two years before its creation. For four decades he advocated for the preservation of America's natural wonders, and he was instrumental in the creation of Yosemite National Park in 1890. He also fought to protect the groves of giant sequoias and coastal redwoods (some of them over 2,000 years old) scattered through California. "Any fool can destroy trees. They cannot run away; and if they could, they would still be destroyed," he argues in "Save the Redwoods," which was found among his papers at the time of his death and is presented as our Story of the Week.
Read "Save the Redwoods" by John Muir
Photo, above: John Muir and Theodore Roosevelt at the Grizzly Giant, Mariposa Big Tree Grove, 1903. Photograph by Joseph N. LeConte (1870–1950). Left to right: Two Secret Service agents, Secretary of the Navy William Henry Moody, California Governor George Pardee, Roosevelt, Dr. Presley Marion Rixey, Muir, Nicholas Murray Butler, Presidential secretary William Loeb Jr, and University of California president Benjamin Ide Wheeler. Image courtesy of the Sierra Club.