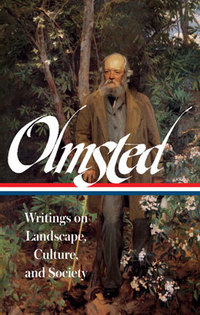 It took two nonprofit cultural institutions to do justice to the life and legacy of Frederick Law Olmsted this week in New York City, when Library of America and the Central Park Conservancy co-hosted a celebration of the pioneering landscape architect on Wednesday, May 11.
The event on a beautiful spring evening was held, fittingly, at Central Park's Bethesda Terrace, a key component of Olmsted and Calvert Vaux's original vision for the park that is now one of its best-loved showpieces.
Last fall Library of America published Frederick Law Olmsted: Writings on Landscape, Culture, and Society, a collection that presents Olmsted's writing alongside illustrations, design sketches, photographs, and architectural plans. After thanking the underwriters who made the volume possible, LOA President Cheryl Hurley told the crowd on Wednesday that the book provides a comprehensive one-volume overview of Olmsted's visionary ideas about public green space while also acknowledging his work as a journalist, abolitionist, and conservationist—to name just a few of his other endeavors.
Charles E. Beveridge, who edited Writings on Landscape, Culture, and Society for Library of America, then summarized some of Olmsted's varied accomplishments. The LOA volume, Beveridge explained, realizes his long-held dream that selected writings from the twelve-volume scholarly edition of Olmsted's writings (which Beveridge also edited) would be published in the Library of America.
All photos © Star Black.