In the eyes of many, the level of political discourse in the United States has descended to new depths during the current presidential campaign. But were candidates for office in eighteenth- and nineteenth-century America really any more dignified, or civil toward their opponents, than their contemporary counterparts?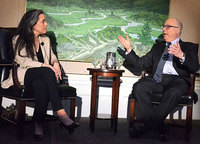 To discuss this and related questions, Library of America brought together Yale University Professor of History and American Studies (and LOA Trustee) Joanne B. Freeman and author and veteran political consultant Douglas E. Schoen for a public conversation at the Century Association in New York City on April 18. The capacity audience included former governor of New Jersey Jon Corzine and historian Richard Brookhiser.
A specialist in the revolutionary and early national periods of American history, Freeman edited the Library of America volume of Alexander Hamilton's writings. At the Century Association, she leaned toward the view that invective and vituperation have played a prominent role in the country's political culture more often than not. This was particularly true of the years before and after the controversial, bitterly contested election of 1800; as she explained, her research in private correspondence and diaries of the period even turned up a handful of insults that were all but guaranteed to prompt a duel.
What were these incendiary terms? Freeman cites coward, liar, scoundrel, and rascal—along with two more epithets that may surprise you. Find out what they are below:
On a more sober note, Freeman went on to relate the present political moment, with its outbreaks of nativism and Islamophobia, to earlier episodes in the history of the republic—for instance, the Alien and Sedition Acts of 1798, which made it harder for immigrants to become U.S. citizens.
"Some fears are bound up with the vulnerabilities of democracy," she said, "and they re-emerge, and re-emerge, and re-emerge, in different ways."