2016 marks the hundredth anniversary of the birth of Shirley Jackson (on December 14, 1916), and commemorations of her centennial kick off with a high-profile event at Symphony Space in New York City next Wednesday, February 24.

Sponsored by Library of America, "Selected Shorts: The Stories of Shirley Jackson" will feature readings by actors Paul Giamatti, Stephen Kunken, Cristin Milioti, and Mary Louise Wilson, among other performers. Author A. M. Homes, no slouch herself when it comes to conjuring profound anxiety in domestic settings, is the host for the evening.
Fans will have to show up next Wednesday evening to find out which Jackson stories will be read, but it's a safe bet that her masterpiece, "The Lottery," will enjoy a place of honor in the proceedings. Originally published in the June 26, 1948 issue of The New Yorker, Jackson's parable of small-town savagery generated an unprecedented outpouring of reader responses and is still widely considered the most controversial piece of fiction ever published in the magazine. Assessing "The Lottery" from the vantage point of 2015, Paul Theroux stated that it "still sends chills, reminding us just how potent and inspiring a short story can be."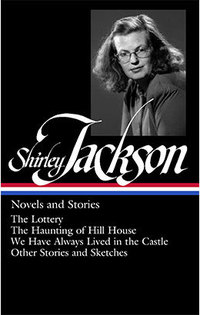 At the same time, of course, next Wednesday's event at Symphony Space is an opportunity to experience Jackson's gifts outside of "The Lottery," and to learn why her literary reputation has been steadily on the rise in recent years—since well before Library of America's publication of Shirley Jackson: Novels & Stories in 2010. Writing in Salon nearly two decades ago, for instance, Jonathan Lethem called Jackson "one of this century's most luminous and strange American writers. . . . To read her at all is to have a personal connection."
For more information on the February 24 event, and to buy tickets, visit the Symphony Space website.