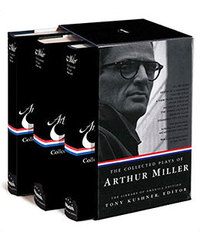 The centennial of Arthur Miller's birth on October 17, 2015 has been the occasion for a months-long celebration of the dramatist's life and work. Major new productions of A View from the Bridge and Incident at Vichy opened last fall in New York, and will be followed by a highly-anticipated new take on The Crucible on Broadway this spring. For its part, Library of America has marked Miller's hundredth birthday by gathering its three-volume edition of his collected plays into a deluxe boxed set that includes an appreciation by the set's editor, playwright Tony Kushner.
For insight into the Miller phenomenon, we reached out to veteran stage director and producer Gregory Mosher, whose extensive experience with Miller goes back decades and includes the well-regarded 2010 revival of A View from the Bridge that starred Liev Schreiber and Scarlett Johansson. Mosher makes his own contribution to the Miller centennial in New York City on January 25, when he presides over the event "One Night 100 Years"—a benefit for the Arthur Miller Foundation that will feature actors Alec Baldwin, Greta Gerwig, and Laurence Fishburne alongside Kushner and his fellow playwright Sam Shepard, among others, in an evening of readings and dramatic excerpts spanning the width of Miller's oeuvre.
Via email, Mosher responded to Library of America's questions from his home in New York City.
LOA: The 2015–16 theater season sees at least four high-profile Miller revivals scheduled in New York City alone. Leaving aside the Miller centennial, what is it about works like Death of a Salesman, The Crucible, and A View from the Bridge that speaks to succeeding generations of theatergoers?
GM: Miller's plays are usually about families and communities, neither of which are going away. The Lomans in New York City. The Carbones down by the waterfront. That little community in Salem. The plays are also built, most of them, like pickup trucks, just terribly solid. Which is to say they have plots. The plots aren't always straightforward, and are often structured like dreams. But they have plots, unlike, for instance, The Cherry Orchard. You turn the ignition key on a Miller play and it goes.
LOA: When you directed the premieres of two Miller one-acts, Clara and I Can't Remember Anything, in 1987, he had been a major figure in American theater for more than forty years. What was it like to work with him?
GM: Miller was as good with actors as any writer I've known. Maybe he got a few tricks from his first director, Elia Kazan, or maybe he just knew how to talk to them. I learned a lot watching him with the actors.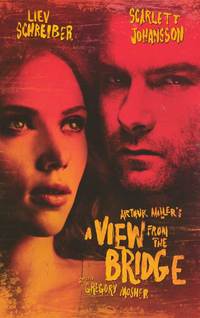 LOA: Did your experience directing those two one-acts and the 2006 revival of The Archbishop's Ceiling—what might be called chamber works—inform your approach to A View from the Bridge, when you directed that in 2010?
GM: The Archbishop's Ceiling is actually a serious, meaty play, more symphonic than chamber. But there's a catch to doing it. Because all the characters—that's a woman writer and her three male writer-lovers, which is a promising beginning—are being spied on by a government mic in the ceiling, they have to speak in gobbledygook. The nonsensical lines are accompanied by funny faces and hand signals. It would be done more often if on top of every page there was a reminder to the actors: "They're talking to the dictator's microphone. It's all code." It's a terrific play. I don't know if it will work now. Most people don't seem to have a problem with the NSA grabbing everything we say or write.
LOA: In an interview prior to the opening of A View from the Bridge, you mentioned that Miller would buy himself, as a kind of personal ritual, a new pair of shoes before going into rehearsals of each new play. With all his success, was he superstitious at the beginning of each new project?
GM: I don't think it was superstition so much as ritual. I think it was originally, "You get paid on the first day of rehearsal, you buy shoes, because God knows when you'll next have the cash." Of course by the time I met him he could buy the shoe store. But he was often like a big kid, which was of course delightful.
LOA: The 1983 Beijing production of Salesman, directed by Miller himself, made headlines around the world, and Tablet magazine recently ran an affecting essay by a former Soviet refusenik describing the "profound impression" Incident at Vichy made on him in a 1987 Moscow production. Is there something about Miller's work that translates particularly well to international audiences?
GM: I was in China this past fall (2015) talking with the National Center for the Performing Arts about another Salesman in Beijing. In 1984, when Miller directed it, the actors seemed not quite sure what a traveling salesman was, or why a guy with a house, car, a loving wife, and two sons would kill himself. Now they're all sweating the stock market.
LOA: The environment for serious playwrights in this country has changed considerably since Miller's heyday. Between the economic dictates of Broadway, for instance, and the sometimes grinding workshop process for emerging writers, would his work have a harder time of breaking through in the twenty-first century?
GM: That is, as politicians like to say, an unanswerable hypothetical. Who knows that a young Arthur in 2016 would even be a playwright? You have to remember that when Miller was born, movies were still silent, there was of course no TV, and the theater had a central place in the culture. Which is to say, you could grasp the country by watching the plays. He could have seen great actors on Broadway for less than a buck. All that said, if a young writer were to write a play as good as All My Sons, let alone Death of a Salesman, it would find a home.
LOA: From the perspective of 2016: how would you characterize Miller's place in the American canon?
GM: Well, we pigeonhole writers, don't we? Tennessee was the poet. Beckett was the existentialist. Pinter did pauses. Mamet talks dirty. Stoppard is witty. And Arthur was the moralist. This is silly. All these, not to mention such fine playwrights as Richard Nelson, Lynn Nottage, and Tony Kushner, just to name a few, are far more complex than their labels, or we wouldn't still be doing and watching their plays. I've been working on a little evening of Miller's stuff [see above], re-reading letters and essays and his memoir Timebends. What's striking isn't that he's some looming Mosaic force, but that he writes from a place of love. And sex. Willy Loman deeply loves his son, but a woman in Boston is his undoing. Eddie Carbone's utterly unacknowledged desire for his niece, once revealed, drives him to suicide. So I think, look for the passion that drives the plays. Look for irrationality, for a full-throated and loving embrace of humanity's frailties. When you turn the key on a Miller play, that's the engine that starts up.