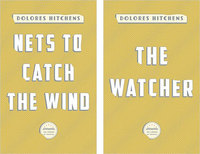 Fans of the new two-volume LOA set Women Crime Writers of the 1940s & 50s who have found themselves adrift after finishing all eight novels in the collection are in for some good news today. The Library of America is releasing four out-of-print novels by Fools' Gold author Dolores Hitchens in new e-book editions available from all major e-book retailers. (See below for purchasing information.)
The last novel in the Women Crime Writers anthology, Fools' Gold (1958) has been singled out for particular praise by reviewers—in the New York Times Book Review, for instance, Val McDermid called it "a great finale to the collection." The four e-book reissues date from the same period of Hitchens's career that yielded Fools' Gold, during which she regularly turned out a novel or two a year. Sleep With Strangers (1955) and Sleep With Slander (1960) both feature California private eye Jim Sader, while Nets to Catch the Wind (1952) and The Watcher (1959) are standalone mysteries.
Hitchens fans may be interested to know that all four novels were originally published under her own name; as has been noted previously, the author's regular use of pseudonyms makes her bibliography unusually complicated.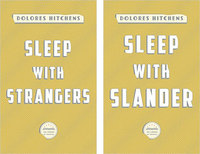 Though long out of print, these books have not lacked for admirers over the years. Crime fiction maven Bill Pronzini Tipping My Fedora and Vintage Hardboiled Reads have also championed the Jim Sader novels.
"It is such marvelous news to see more Dolores Hitchens novels back in circulation," says Sarah Weinman, editor of Women Crime Writers: Eight Suspense Novels of the 1940s & 50s. "These four novels brilliantly showcase Hitchens's hallmark type of suspense: sneaky, stealthy, and shock-laden in subtle but highly effective fashion."
Click on the appropriate links below for specific e-book platforms.
Nets to Catch the Wind
Kindle • Kobo • Google Books • iBooks • Nook
Sleep With Strangers
Kindle • Kobo • Google Books • iBooks • Nook
The Watcher
Kindle • Kobo • Google Books • iBooks • Nook
Sleep With Slander
Kindle • Kobo • Google Books • iBooks • Nook