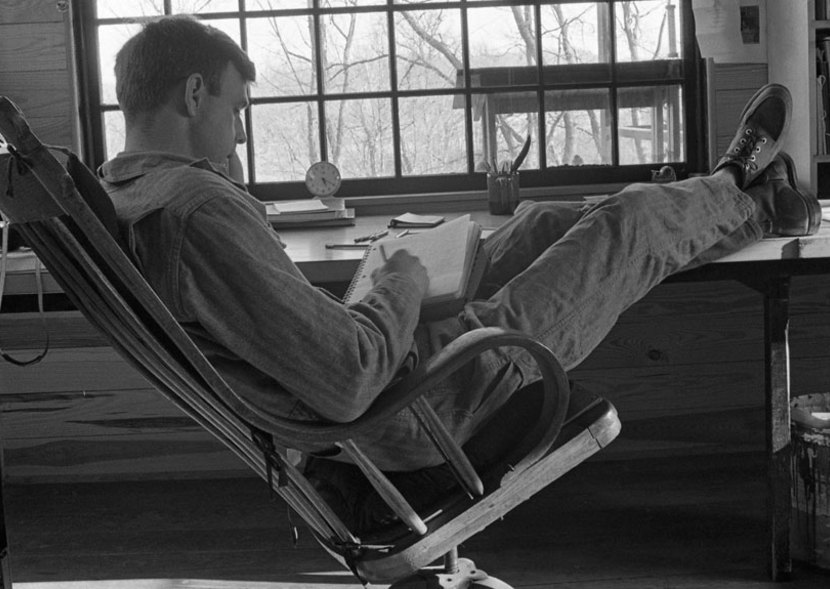 Major works:
A Place on Earth • The Unsettling of America • Hannah Coulter • It All Turns on Affection • The Art of Loading Brush • The Sabbath Poems
Wendell Berry is a novelist, poet, farmer, and environmental writer and activist. He earned an MA in English at the University of Kentucky in 1957 and in 1958 joined Stanford University's creative writing program as a Wallace Stegner Fellow, studying under Stegner and with Edward Abbey, Larry McMurtry, Ernest Gaines, Tillie Olsen, Robert Stone, and Ken Kesey. In 1961 he received a Guggenheim Fellowship to spend a year in Tuscany. From 1962–64 he taught English at NYU before returning to the University of Kentucky, where he taught English and creative writing from 1964 until 1977 and then again from 1987 to 1993. He has published over fifty books, including over twenty-five books of poetry, sixteen essay collections, and eight novels. In 2010 he was awarded the National Humanities Medal by President Obama, and in 2013 he was elected as a Fellow of the American Academy of Arts and Sciences. In 2016 he received the Ivan Sandrof Lifetime Achievement Award from the National Book Critics Circle. He has made his home with his wife, Tanya Berry, in Henry County, Kentucky, for the last fifty years.
"Wendell Berry's intimate stories and novels of Port William offer us an engaging pageant of interwoven rural life. In American literature, few sustained visions, perhaps only Faulkner's Yoknapatawpha stories and novels, can compare with Berry's evocation of a specific place through time or his insight into human fidelity and ambition. In chronicling a society and a period of history unknown to most of us, American though it is, his eye for revealing detail sparkles and his ear for diction is perfect."
—Barry Lopez
"Wendell Berry's thought and practice goes far beyond the concern for regional gardening. Though he starts with the Neolithic Village we all come from, his vision of North American possibilities reaches into different soils, climates, and cultures and suggests a future path of wisdom and right work worldwide."
—Gary Snyder
Read an excerpt from
Andy Catlett: Early Travels
Wendell Berry
[My grandfather] returned to what he called "studying." He sat looking down at his lap, his left hand idle on the chair arm, his right scratching his head, his white hair gleaming in the lamplight. I knew that when he was studying he was thinking, but I did not know what about. Now I have aged into knowledge of what he thought about. He thought of his strength and endurance when he was young, his merriment and joy, and how his life's burdens had then grown upon him. He thought of that arc of country that centered upon Port William as he first had known it in the years just after the Civil War, and as it had changed, and as it had become; and how all that time, which would have seemed almost forever when he was a boy, now seemed hardly anytime at all. He thought of the people he remembered, now dead, and of those who had come and gone before his knowledge, and of those who would come after, and of his own place in that long procession.
Read a passage from Andy Catlett: Early Travels by Wendell Berry