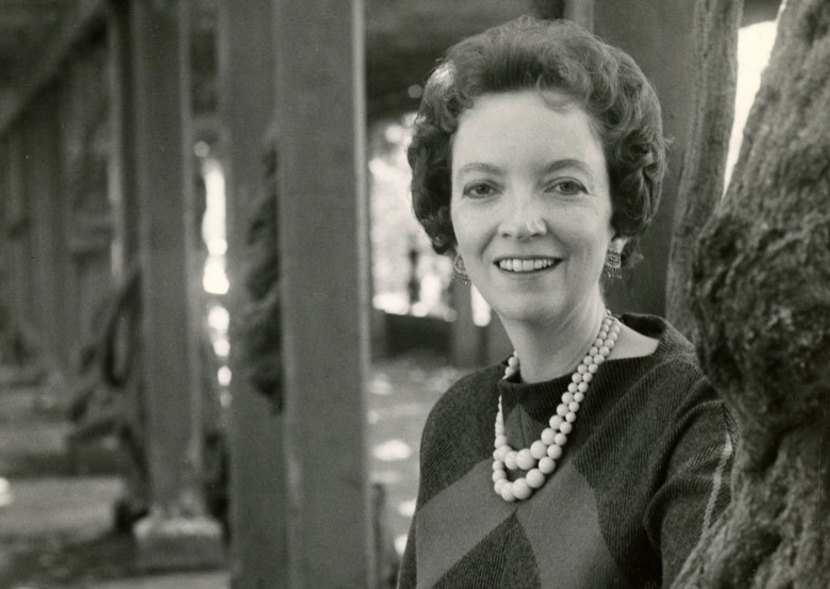 Major works:
A Wrinkle in Time • Meet the Austins • The Arm of the Starfish • A Circle of Quiet • The Irrational Season
"A Wrinkle in Time saved me because it so captured the grief and sense of isolation I felt as a child. I was eight years old when it came out, in third grade, and I believed in it—in the plot, the people and the emotional truth of their experience. This place was never a good match for me, but the book greatly diminished my sense of isolation as great books have done ever since. I must have read it a dozen times."
—Anne Lamott
Read an excerpt from
A Wrinkle in Time
Madeleine L'Engle
What were her greatest faults? Anger, impatience, stubbornness. Yes, it was to her faults that she turned to save herself now.
With an immense effort she tried to breathe against the rhythm of IT. But ITs power was too strong. Each time she managed to take a breath out of rhythm an iron hand seemed to squeeze her heart and lungs.
Then she remembered that when they had been standing before the man with red eyes, and the man with red eyes had been intoning the multiplication table at them, Charles Wallace had fought against his power by shouting out nursery rhymes, and Calvin by the Gettysburg Address.
"Georgie, porgie, pudding and pie," she yelled. "Kissed the girls and made them cry."
That was no good. It was too easy for nursery rhymes to fall into the rhythm of IT.
She didn't know the Gettysburg Address. How did the Declaration of Independence begin? She had memorized it only that winter, not because she was required to at school, but simply because she liked it.
"We hold these truths to be self-evident!" she shouted, "that all men are created equal, that they are endowed by their creator with certain unalienable rights, that among these are life, liberty, and the pursuit of happiness."
As she cried out the words she felt a mind moving in on her own, felt IT seizing, squeezing her brain. Then she realized that Charles Wallace was speaking, or being spoken through by IT.
"But that's exactly what we have on Camazotz. Complete equality. Everybody exactly alike."
For a moment her brain reeled with confusion. Then came a moment of blazing truth. "No!" she cried triumphantly. "Like and equal are not the same thing at all!"
Read a passage from A Wrinkle in Time by Madeleine L'Engle