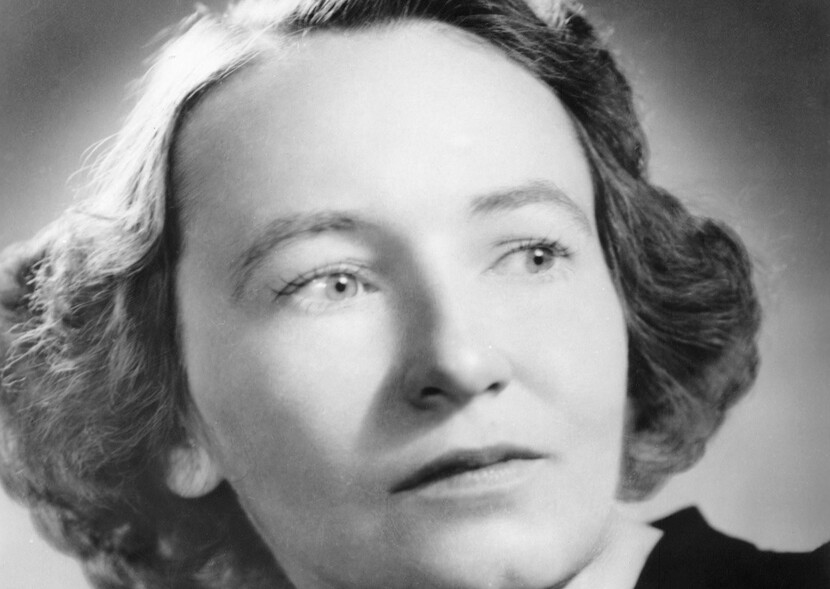 Major works:
Ride the Pink Horse • In a Lonely Place • The Expendable Man
"After reading In a Lonely Place, you find yourself looking, with a newly gimlet eye, at every purported femme fatale, every claim of female malignancy and the burning need of noir heroes to snuff that malignancy out. . . . In Hughes's novel there is not a drop of romanticism, not a touch of fantasy. It is a dark, cold gem of a book, a gem without a flicker of heat or light. One that cuts to the touch."—Megan Abbott
---
Born Dorothy Belle Flanagan on August 10, 1904, in Kansas City, Missouri, the oldest child of Frank S. Flanagan and Calla Belle Callahan Flanagan. Knew she wanted to be a writer at the age of six, when she first learned how to read. Graduated from the University of Missouri in 1924 with a major in journalism, did graduate work at the University of New Mexico and also attended Columbia University.
Worked as a journalist in Missouri, New York, and New Mexico. Married Levi Allan Hughes Jr. in 1932. They had two daughters, Helen and Susan, and a son, Antony. Published a book of poems, Dark Certainty (1931), which won the Yale Series of Younger Poets competition, and Pueblo On the Mesa (1939), a history of the first fifty years of the University of New Mexico.
Her first novel, The So Blue Marble (1940), began a streak in which Hughes published eleven novels in seven years: suspense stories The Cross-Eyed Bear (1940), The Bamboo Blonde (1941), The Fallen Sparrow (1942), The Blackbirder (1943), The Delicate Ape (1944), Dread Journey (1945), Ride the Pink Horse (1946), The Scarlet Imperial (1946), and In A Lonely Place (1947), as well as Johnnie (1944), a non-crime novel.
A number of Hughes's novels were adapted as Hollywood films: The Fallen Sparrow (1943, directed by Richard Wallace and starring John Garfield), Ride the Pink Horse (1947, directed by and starring Robert Montgomery), and In A Lonely Place (1950, directed by Nicholas Ray and starring Humphrey Bogart and Gloria Grahame).
Moved to Los Angeles in 1944. Reviewed mysteries for the Albuquerque Tribune, the Los Angeles Times, and the New York Herald-Tribune beginning in 1940. Published non-crime novel The Big Barbecue (1949) as well as suspense novels The Candy Kid (1950) and The Davidian Report (1952). Published short stories "The Homecoming" (1946), "You Killed Miranda" (1958), "The Black & White Blues" (1959).
Returned to Santa Fe, New Mexico, in the early 1960s, after the death of her mother in 1961. Published her final novel, The Expendable Man (1963), later explaining she had stopped writing novels in order to care for her dying mother as well as to support her children and grandchildren. Continued to review new crime fiction for the Los Angeles Times. Published short stories "Danger at Deerfawn" (1964) and "Everybody Needs a Mink" (1965). Named Grand Master of the Mystery Writers of America in 1978. Published Erle Stanley Gardner: The Case of the Real Perry Mason (1978), which won her an Edgar Award for best critical/biographical work in 1979. Died in Ashland, Oregon, on May 6, 1993.