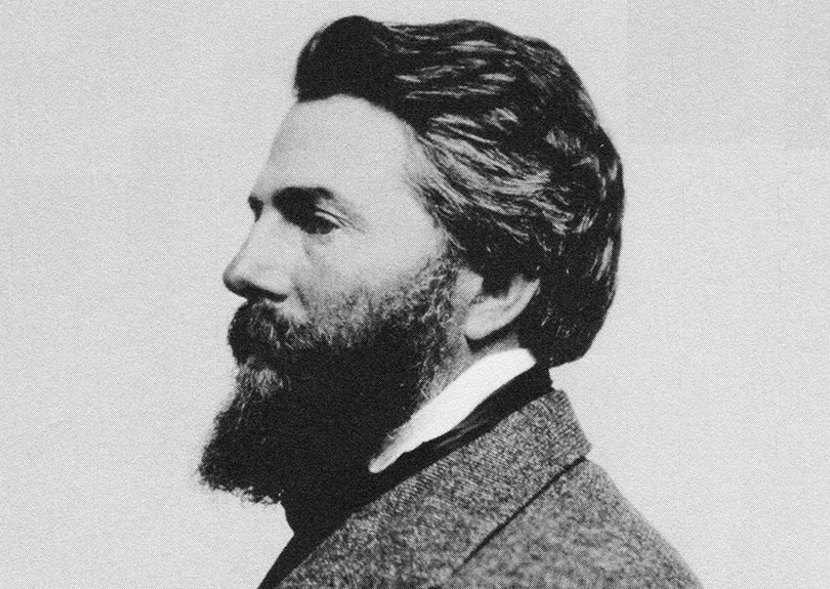 Major works:
Typee • Moby-Dick • Billy Budd, Sailor • "Bartleby, the Scrivener" • "Benito Cereno"
"One of the paradoxes of this life is that just when he was being forgotten by his contemporaries, Melville wrote the book for which he would be remembered by posterity. He was in his early thirties, a time when many men feel that the chance for untried things is slipping away. It was the summer of 1850. With his money worries growing and his audience shrinking, he was working on yet another young-man-goes-to-sea story when the new book began, as the phrase goes, to write itself. It became the story of a "moody stricken" captain, bent on vengeance against a great white whale that had dashed his boat to splinters on a previous voyage and ripped him half to death. At first this peg-legged captain, named Ahab for an apostate Israelite king, keeps himself hidden belowdecks just as he had been submerged in Melville's mind. Only after the Nantucket pilot has steered the ship to the edge of the open ocean does Ahab reveal himself, and the moment he does, we recognize in him that rarity in literature—a truly original character who, 'like a revolving Drummond light, raying away from itself,' so lights up the world that it as if we are seeing it for the first time."
—Andrew Delbanco, Melville: His World and Work (2005)
"The beginning of man was salt sea, and the perpetual reverberation of that great ancient fact, constantly renewed in the unfolding of life in every human individual, is the important single fact about Melville. Pelagic.
He had the tradition in him, deep, in his brain, his words, the salt beat of his blood. He had the sea of himself in a vigorous, stricken way, as Poe the street. It enabled him to draw up from Shakespeare. It made Noah, and Moses, contemporary to him. History was ritual and repetition when Melville's imagination was at its own proper beat."
—Charles Olson, Call Me Ishmael (1947)
Read an excerpt from
Moby-Dick
Herman Melville
Such a crew, so officered, seemed specially picked and packed by some infernal fatality to help him to his monomaniac revenge. How it was that they so aboundingly responded to the old man's ire—by what evil magic their souls were possessed, that at times his hate seemed almost theirs; the White Whale as much their insufferable foe as his; how all this came to be—what the White Whale was to them, or how to their unconscious understandings, also, in some dim, unsuspected way, he might have seemed the gliding great demon of the seas of life,—all this to explain, would be to dive deeper than Ishmael can go. The subterranean miner that works in us all, how can one tell whither leads his shaft by the ever shifting, muffled sound of his pick? Who does not feel the irresistible arm drag? What skiff in tow of a seventy-four can stand still? For one, I gave myself up to the abandonment of the time and the place; but while yet all a-rush to encounter the whale, could see naught in that brute but the deadliest ill.
Read a passage from Moby-Dick by Herman Melville