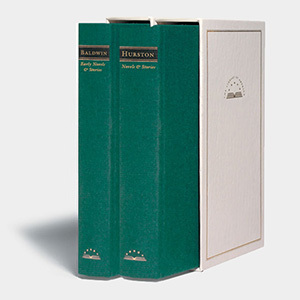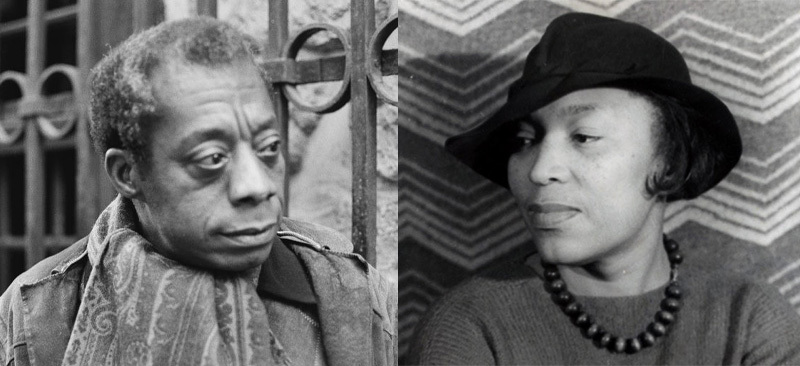 Clothbound, slipcased editions | 2,024 pages
James Baldwin: Early Novels & Stories | Go Tell It on the Mountain | Giovanni's Room | Another Country | Going to Meet the Man (stories)
Zora Neale Hurston: Novels & Stories | Jonah's Gourd Vine | Their Eyes Were Watching God | Moses, Man of the Mountain | Seraph on the Suwanee | stories
The James Baldwin volume contains the four books that established his reputation as a writer who fused unblinking realism and rare verbal eloquence. His first and perhaps most famous novel, Go Tell It on the Mountain, tells the story, rooted in Baldwin's own experience, of a preacher's son coming of age in 1930s Harlem. Giovanni's Room is a searching, and in its day controversial, treatment of the tragic self-delusions of a young American expatriate at war with his own sexuality. Another Country depicts the suicide of a gifted jazz musician and its ripple effect on those who knew him. Complex in structure and turbulent in mood, it is in many ways Baldwin's most ambitious novel. The collection Going to Meet the Man includes the "Sonny's Blues," the unforgettable portrait of a jazz musician struggling with drug addiction, and seven other memorable stories.
Zora Neale Hurston's free-flowing and frequently experimental fiction is exuberant in its storytelling and open to unpredictable and fascinating digressions. Jonah's Gourd Vine, based on the lives of her parents and evoking in rich detail the world of her childhood, recounts the rise and fall of a powerful preacher in an all-Black town in Florida. Their Eyes Were Watching God, Hurston's lyrical masterpiece about a woman's determined struggle for love and independence, employs a striking range of tones and voices to give the story of Janie and Tea Cake the poetic intensity of a myth. In Moses, Man of the Mountain, her high-spirited and utterly personal retelling of the Exodus story, Hurston again demonstrates her ability to use Black vernacular as the basis for a supple and compelling prose style. Seraph on the Suwanee, Hurston's last major work, is set in turn-of-the-century Florida and portrays the passionate clash between a poor southern woman and her willful husband. The volume concludes with a selection of short stories, among them "Spunk," "The Bone of Contention," and "Story in Harlem Slang."
Plus –

FREE
Ann Petry: The Street, The Narrows
Clothbound, slipcased edition | 815 pages
Brilliant, daring, and ahead of her time, Ann Petry (1908–1997) is one of the unsung American writers of the last century. Born in Old Saybrook, Connecticut, and trained in the family business as a pharmacist, she moved to Harlem in 1938. The pervasive poverty and racism she witnessed there inspired her unforgettable debut, The Street (1946), which became the first novel by an African American woman to sell more than a million copies. A work of crackling intensity, the novel told in the voice of Lutie Johnson, a single mother whose efforts to claim a share of the American Dream for herself and her young son meet frustration at every turn.
Faced with newfound fame and unwanted literary celebrity, Petry returned to the relative quiet of Connecticut to write her most ambitious work, the 1953 masterpiece The Narrows, a wide-ranging social novel with a rich vein of humor, inimitably quirky minor characters, and keenly observed historical textures. At its provocative center is an interracial love affair between Link Williams, a young black scholar-athlete and war veteran, and Camilo Sheffield, a white fashion reporter and munitions heiress. Their attraction sets in motion a tragedy that reveals the bitter fault lines of race and class in America.
James Baldwin photo by Sophie Bassouls/Sygma via Getty Images.