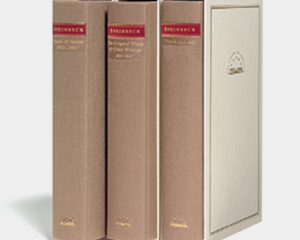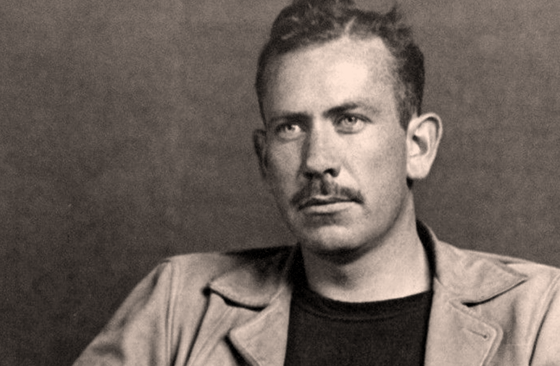 The Grapes of Wrath | Of Mice and Men | East of Eden | Tortilla Flat | Cannery Row | The Pastures of Heaven | To a God Unknown | In Dubious Battle | The Harvest Gypsies | The Long Valley | The Log from the Sea of Cortez | The Moon Is Down | The Pearl
Three clothbound, slipcased volumes | 3,040 pages
One of America's most celebrated writers and the winner of the Nobel and Pulitzer prizes, Steinbeck created vivid characters and timeless stories that continue to inspire readers of all ages. Here, complete in three volumes, are all the major works published by Steinbeck during the first twenty years of his career.
The Grapes of Wrath, in a newly edited text with errors corrected and words restored that were omitted or misconstrued in earlier editions.
Of Mice and Men, featuring Lenny and George, itinerant farmhands held together in the face of deprivation by the frailest of dreams.
Spanning the Civil War to World War I, East of Eden recounts the violent and emotionally turbulent history of a Salinas Valley family through several generations.
Steinbeck's sympathetic portrayal of the ne'er-do-well residents of Tortilla Flat.
Cannery Row, a comic and bawdy evocation of Monterey's sardine-canning district.
In Dubious Battle, a moving drama of a migrant fruit-pickers' strike, tracing the surges and shifts of group behavior.
The Harvest Gypsies, an investigative report on migrant workers that laid the groundwork for The Grapes of Wrath.
The Long Valley, which displays Steinbeck's brilliance with short stories, including such classics as "The Chrysanthemums," "Flight," and "The Red Pony."
The Log from the Sea of Cortez, about a marine biological expedition, combining science, philosophy, and adventure.
The Moon Is Down, set in an unnamed Scandinavian country under German occupation, dramatizes the transformation of ordinary life under totalitarian rule and the underground struggle against the Nazi invaders.
The Pearl expands on an anecdote Steinbeck heard in Baja California about a local boy who had found a pearl of unusual size; he turned it into a parable of the corrupting influence of sudden wealth. Included are the original illustrations by José Clemente Orozco.