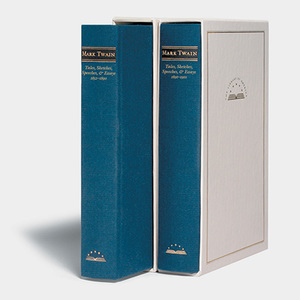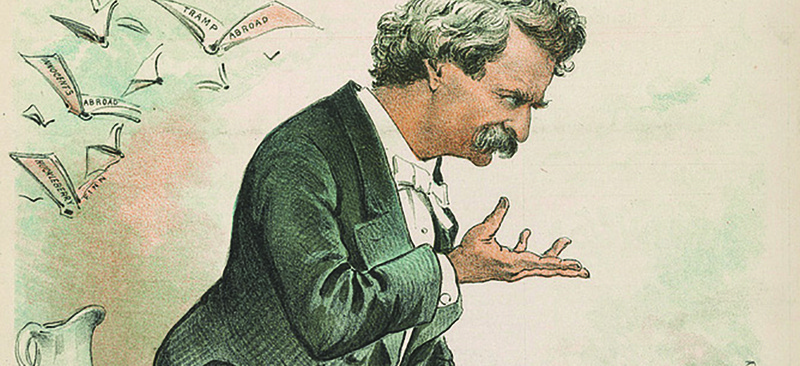 Nearly 300 selections, including such classics as: How to Cure a Cold | Jim Smiley and His Jumping Frog | Cannibalism in the Cars | A Presidential Candidate | Advice to Youth | The Man That Corrupted Hadleyburg | My First Lie and How I Got Out of It | The War Prayer | Adam's Soliloquy | Eve Speaks | What is Man?
Two clothbound, slipcased volumes | 2,126 pages
The Library of America edition of Mark Twain's short writings is the most comprehensive collection ever published: nearly three hundred stories, sketches, burlesques, tall tales, hoaxes, speeches, and satires. Arranged chronologically and containing many pieces restored to the form in which Twain intended them to appear, the volumes show with unprecedented clarity the literary evolution of Mark Twain over six decades of his career.
As a riverboat pilot, Confederate irregular, silver miner, frontier journalist, and publisher, Twain witnessed the tragicomic beginning of the Civil War in Missouri, the frenzied opening of the West, and the feverish corruption, avarice, and ambition of the Reconstruction era. He wrote about political bosses, jumping frogs, robber barons, cats, women's suffrage, temperance, petrified men, the bicycle, the Franco-Prussian War, the telephone, the income tax, the insanity defense, injudicious swearing, and the advisability of political candidates preemptively telling the worst about themselves before others get around to it.
Among the stories included here are "Jim Smiley and His Jumping Frog," which won him instant fame when published in 1865, and the charming "A Cat Tale," written for his daughters' private amusement. This edition also presents several of his famous and successful speeches and toasts, such as "Woman—God Bless Her" and "Advice to Youth." Such writings brought Twain immense success on the public lecture circuit, as did his notorious "Whittier Birthday Speech," which portrayed Boston's most revered men of letters as a band of desperadoes. The United States military involvement in Cuba, China, and the Philippines turned Twain's attention to political satire and invective. "To the Person Sitting in Darkness," "The United States of Lyncherdom," and "The War Prayer" are biting denunciations of European and American imperialism. Twain's increasingly unorthodox religious opinions are powerfully, often comically, expressed in "Extracts from Adam's Diary," "Eve's Diary," "A Humane Word from Satan," "What is Man?" and "Letters from the Earth."
This collection also includes an extensive chronology of Twain's life, helpful notes on the people and events referred to in his works, and a guide to the texts.
Plus –

FREE
Mark Twain: The Gilded Age & Later Novels
The Gilded Age | The American Claimant | Tom Sawyer Abroad | Tom Sawyer, Detective | No. 44, The Mysterious Stranger
Clothbound, slipcased edition | 1,064 pages
This bonus volume collects five novels that show America's greatest humorist in a range of moods and styles: satiric, playful, reminiscent, and philosophical. The Gilded Age gave its name to an era and features the remarkable Colonel Sellers, a visionary convinced that his odd inventions and schemes will bring him fame and riches. Colonel Sellers returns in The American Claimant. Now the would-be heir to an English title, Sellers concocts extravagant inventions, among them a "cursing phonograph" for timid sea captains and a method for "materializing" the dead. Tom Sawyer Abroad and Tom Sawyer, Detective are fanciful extensions of the adventures begun in The Adventures of Tom Sawyer and Adventures of Huckleberry Finn. In the first, Tom, Huck and Jim escape again from civilization, not on a raft but in a balloon which carries them across the Atlantic. In Tom Sawyer, Detective, Twain transposes a seventeenth-century Danish murder case to America, letting his famous pair play Sherlock Holmes and Dr. Watson. Twain's haunting final novel, left in manuscript after his death, No. 44, The Mysterious Stranger, is a psychic adventure set in the gothic gloom of a medieval Austrian village. Unusual among Twain's works for its phantasmagoric trappings, the novel interrogates the latent powers of the human mind. Originally published in heavily edited form, it appears here in the authoritative text established a half century after Twain's death